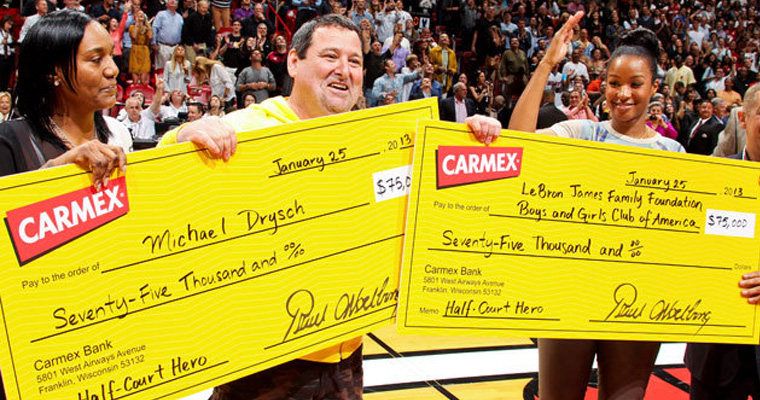 So you don't know who Lebron James is? No. You don't even care? Fair. So you don't give a rat's ass about basketball? I get it. That may be the case but even the biggest hater of the sport is gonna love this video of 50 year-old computer technician, Michael Drysch, sinking a half court hook shot during the half time show of an NBA game.
☛ Read Next: Splash! Is Completely Gash
Three time NBA MVP Lebron James has set up a Family Foundation charity that selected Drysch at random – flying him out for the appearance during the half time of the Miami Heat VS Detroit Pistons match up at the American Airlines Arena.
[yframe url='http://www.youtube.com/watch?v=rnGEEius_J8′]
LeBron James, speaking after the 110-88 victory, said of the half court worldy, "I was watching it the whole time, he went for the hook shot, he went for the old hook shot. I saw it the whole way, I was like 'that got a chance, that got a chance' and when it went down I was just as excited as him. I was just as suprised. It's all for a good cause, I was real excited to give away $75,000, for sure."
☛ Watch Next: This Volleyball Is A Serial Killer
Drysch said he would use the money to take care of a couple of bills he had but in all liklihood he is probably gonna have to pay for a couple of hospital bills after having a 6 foot 5 giant land on him.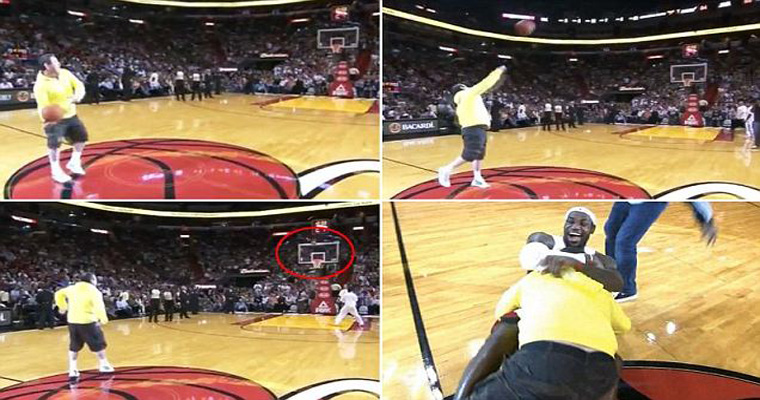 Just to put it into perspective – that's about 47 feet and the bloke throwing it said he only hit about 1% of ones he's been practising in the week. Tekkers.
☛ Check This Out Next: Absolutely Tekkers LEGO Porsche 911
The only half court shot I can remember that was any where near as good was Woody Harrelson in White Men Can't Jump so you can watch it below and decide for yourselves:
[yframe url='http://www.youtube.com/watch?v=fHC2GXboYhM']
Follow AMJ @amjeezie