A Texas lawyer who struggled to remove a kitten filter from his phone during a Zoom courtroom hearing this week got so flustered and rattled that he ended up clarifying that he was not actually a cat.
Featured Image VIA
The high-pressure situation took place during a hearing for  the 394th Judicial District Courtroom of Brewster. Here's how it played out:
"I'm here live, I'm not a cat," says lawyer after Zoom filter mishap

"I can see that," responds judge pic.twitter.com/HclKlAUwbM

— Lawrence Hurley (@lawrencehurley) February 9, 2021
Amazing. It's just so great that "I'm here live, I'm not a cat" is a real thing a lawyer has now said to a judge on counsel. Look at the guy top right lift his eyes up when the lawyer unironically says that he isn't a cat – it's priceless.
Judge Roy Ferguson shared the following tip afterwards:
IMPORTANT ZOOM TIP: If a child used your computer, before you join a virtual hearing check the Zoom Video Options to be sure filters are off. This kitten just made a formal announcement on a case in the 394th (sound on). #lawtwitter #OhNo @zoom_ushttps://t.co/I0zaj0wu6K

— Judge Roy Ferguson (@JudgeFergusonTX) February 9, 2021
Surely the most embarrassing part was having to wait for the child ("the assistant") to return to show him how to turn off the filter. Fair play to the judge and the opposing council for keeping it together, although it would have been nice of them to laugh or something and at least make the poor guy feel better. The complete stone faces would have made him so much more stressed than necessary. Although it wouldn't have been nearly as funny.
Oh F…..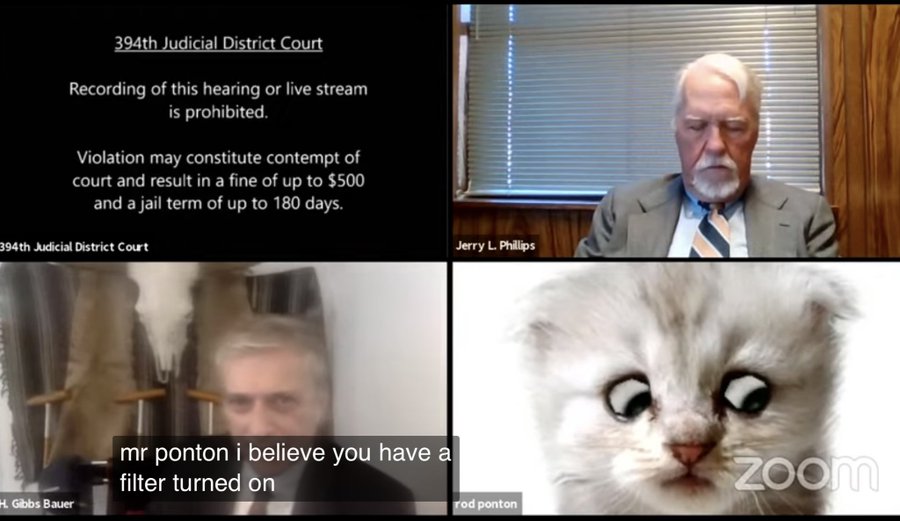 For the Argentine Congressman caught sucking a woman's tits during an important government Zoom meeting, click HERE. Never had these problems pre-COVID.