It seems like things are slowly getting back to normal in this country following Coronavirus – even though we have the worst death figures and no real evidence to suggest that it we act like normal then there won't be another peak, that's another story though – but over in America it seems like they really don't care at all anymore when events like sex island parties are confirmed as going down in the next couple of weeks.
Featured Image VIA
I'm pretty sure that the sex island parties in the past have taken place on some small weird islands in the Caribbean, but this one is taking place in Las Vegas and promises you unlimited sex with a whole different bunch of girls for £3500. As soon as you arrive you'll pick two girls who will stay with you the whole weekend, but if you get bored then you're more than welcome to swap apparently.
It will run from the 19th – 21st June and the price also includes all meals, unlimited booze and a bunch of other activities including horseback riding. Not really sure why you would wanna do that, but there you go.
Here's what the official synopsis had to say, alongside a rather ridiculous promo video:
Guests will be taken from Las Vegas International Airport by our private Helicopter to our discreet location in Nevada. Enjoy the company of 100 Beautiful girls, In our alcohol & marijuana friendly environment.

The girls' mission is to please you and make you feel like a king. If you have any specific fantasies, let us or the girls know, and we'll turn your fantasies into reality! Enjoy breathtaking surroundings with your girls at the one and only Sex Island.
Sounds like fun? The guys at the Good Girl Company have also decided to not even pretend that we aren't in the middle of a global pandemic and actually made a poster to reflect that this is a really bad idea as well.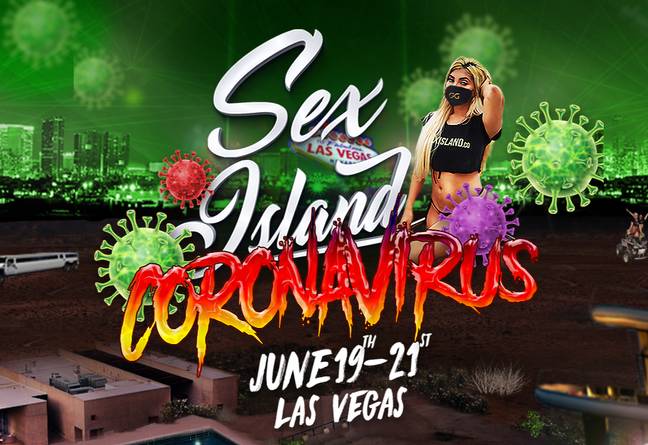 Jesus. You gotta wonder where these people get their ideas from haven't you? Having said that, no doubt the event will be sold out and they'll make a ton of money from it. Might not be able to spend it though when the second lockdown comes into force.
For more of the same, check out this guy who kept a diary for his trip to a previous Sex Island event. Sounds rawkus.