Anyone who checks out our weekly Tinder round-up knows what a ruthless place Tinder can be, but it's still pretty shocking to come across this story of a Tinder user mocking a man in a wheelchair.
Featured Image VIA
22-year-old graphic designer Brad Cowell, from Merthyr Tydfil in Wales, has cerebal palsy and has been in a wheelchair his entire life. Last week Brad was gaming on Xbox with his mate Chris and the pair were also swiping through Tinder between games.
Sounds like a pretty good time right? Well it was – until this happened: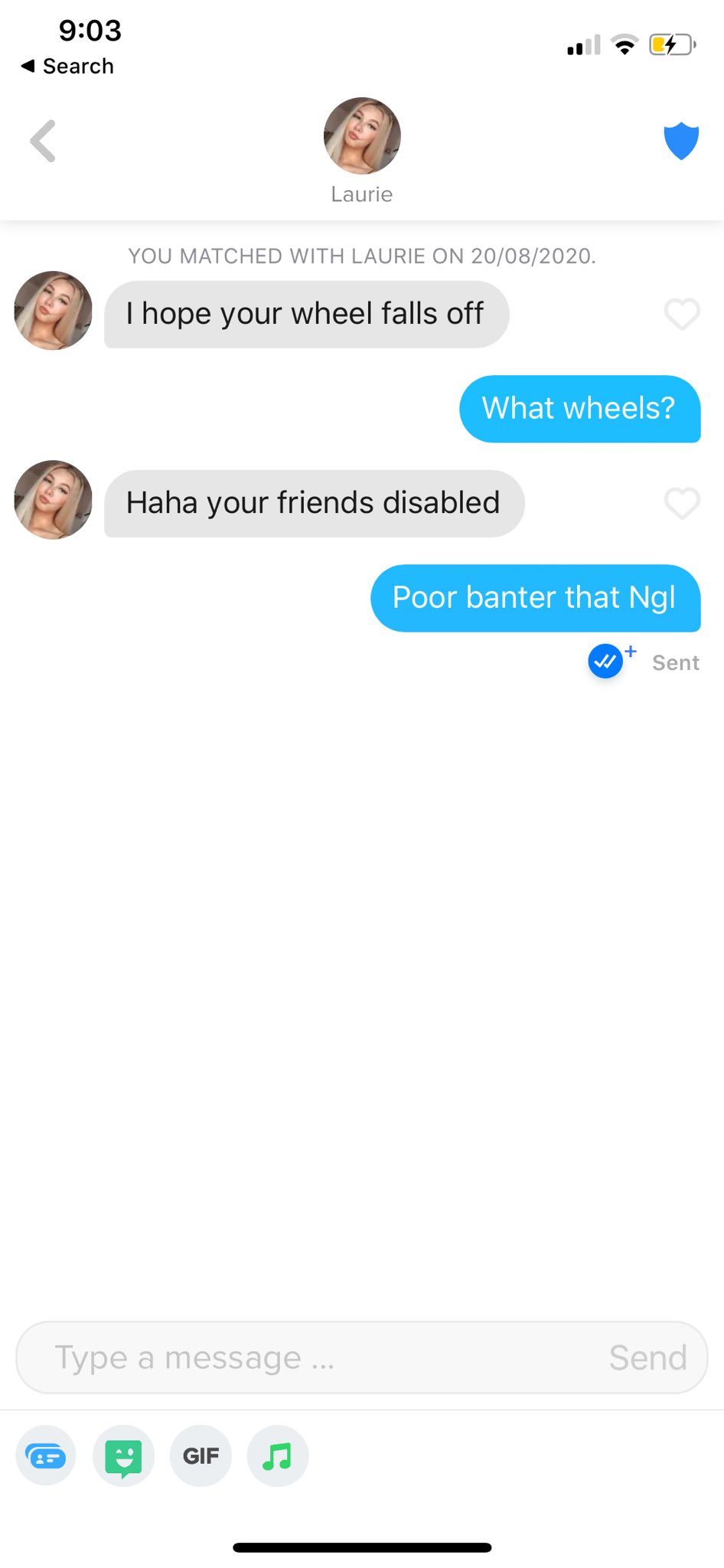 Damn that's cold. Chris showed the messages to Brad, who decided to share them on Twitter and call the girl out:
Not normally one to tweet about something like this but I'm getting a bit sick of people thinking they can get away with it. Some girl messaged one of the Boys on Tinder saying this. Whoever you are you rat say it to me. I've DM'd you on insta. pic.twitter.com/h2vYC4hVZ3

— Brad (@BradCowell) August 20, 2020
There are a whole bunch of comments under the Tweet ripping the girl to pieces but also loads of comments insisting she had been hacked and would never say anything like that. Now I've never heard of anyone hacking someone's Tinder profile before, but who knows? Surely if that were the case the 'hacker' would have sent abusive messages to other people too?
Speaking to The Mirror, Brad says he's no stranger to cruel and unprovoked comments:
You hear snide remarks, sense people looking at you. It's not a very nice feeling, but I don't normally say anything as they get defensive.

I'm sick of having to deal with it. I didn't say anything to this girl.

My disability doesn't bring me down, but this kind of comment could really hurt someone else if they heard it, they might not have the same confidence I have.

There's nothing worse than when you build up confidence and someone comes along and shuts you down.
On all the positive comments he's been seeing on social media:
I'm glad it's had a good response, hopefully it means people in a worse situation than me can see that there are people out there that support them.
What an attitude. This guy's an absolute legend! You'd think this girl's only play here would be to delete her Tinder/Instagram/social media accounts and disappear for a while, but it looks like she's sticking to the 'hacker' excuse. Which again, seems unlikely. Would have been better off going with the "it wasn't me, my mate had my phone" approach. Too late now though. Oh well.
For our most recent Best & Worst Tinder round-up, click HERE.