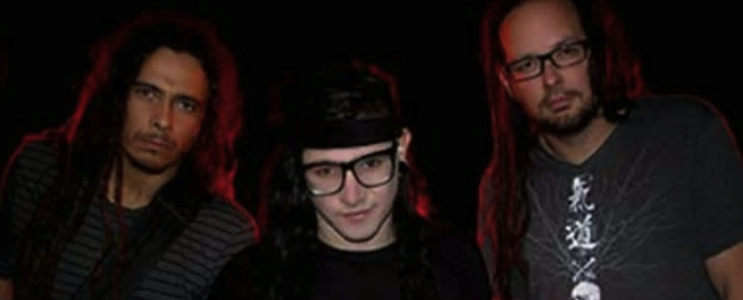 I don't tend to do music recommendations on Sick Chirpse too often – save for the occasional punk rock playlist,another one of which is definitely coming up sometime soon – because I generally feel that most of the people in the world resent my music taste so I reckon it's probably more entertaining for me to just take the piss out of Joey Barton's twitter or something else equally banal.
However, when I heard that Korn were collaborating with weirdo dub step noise artist Skrillex I just had to let other people know. I mean the only other place covering it was the NME website and I think everyone can agree on how irrelevant the NME is these days.
Anyway, many of you might be surprised to realise that Korn are actually still pretty successful, despite the fact that most people who used to listen to them around the turn of the millennium – when hits like Freak on a Leash, Make Me Bad and All Day I Dream About $ex were all over Superock and The Friday Night Rock Show – that despite not selling out Wembley Arena anymore (yeah, that really happened) Korn are still releasing records and playing to fairly big crowds and generally doing pretty well within the music industry. Sure not all of the original members are there – David Silveria left to become an underwear model and run a steak restaurant whereas Head left to become an Evangelical Christian (obviously) – but Fieldy, Munky and Jon Davies are still battering out those nu metal riffs and screams well into their 40's.
That is until now. I'm not really sure why – probably in an attempt to remain relevant now that nu metal is dead and not end up like Mudvayne or something, or simply because they finally realised what most of us realise when we get out of our teens, that NU METAL IS NOT COOL – but Korn have teamed up with dubstep producer Skrillex to create some kind of weird nu-metal/dubstep/noise art mash up.
Now, give it a chance. I thought it was going to be really shit but it's actually pretty cool with the weird dubstep breakdown actually working pretty well, and Jon Davies actually busting out a fairly powerful and catchy pre chorus. Or maybe it's a chorus, depends how you look at it.
Of course some of the lyrics are predictably terrible with the refrain of 'shut the fvck up, get up' over the dubstep bit a standout retarded point. But I guess it kind of transposes the 'spirit of nu metal' and firmly entrenches it in 2011 which is kinda cool I guess. Fieldy has a pretty cool bass with green strings in the video too so it's worth checking the video out for that alone really. 5 string, obviously.
[yframe url='http://www.youtube.com/watch?v=cK8YSsjIaDs']
Follow timw_brap on twitter @timw_brap