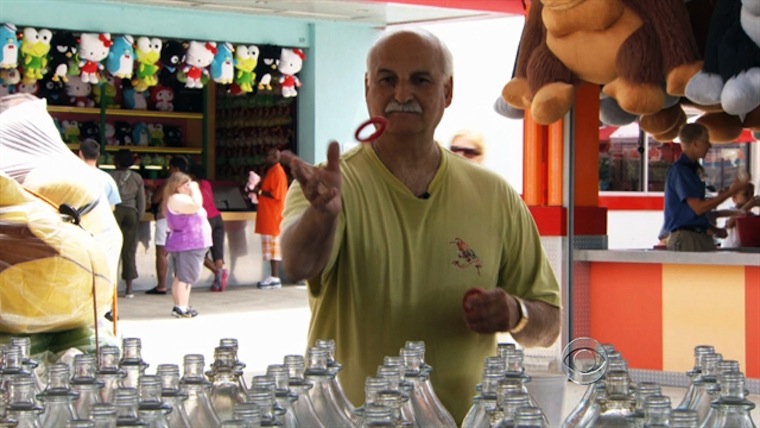 Peter Drakos is a normal guy with an awesome talent, he will own you, and anyone else, at pretty much any carnival game.
By carnival game I mean the type of games you get littered across theme parks where you can win a big fluffy toys. Now these games always look like they're going to be easy to defeat; "What, all I have to do is knock those three milk bottles over with this big heavy ball? Piece of cake!", but then after several unsuccessful throws you learn that this carnival game isn't as easy as it seems. Carnival games like this are obviously built in the favour of the people who run it, so they can keep your money and not dish out any prizes. For example, there is usually a ring of rope around the edge of the platform that the milk bottles are on, and they're also positioned in a way to make it easy to knock of one or two, but all three is near impossible. You end up wasting more money than you planned on these stupid games because they look so easy, but in reality they're all fixed. But Peter Drakos has found a way to beat these games.
Peter says that since the age of 9 he has been winning these carnival games day in day out, and in his time has amassed a huge collection of big fluffy toys (a bit weird?). Peter says he won over 200 fluffy toys for the other kids at his school when he was 9 years old, and has since spent the rest of his life perfecting his talent and becoming the true king of carnival games – what a champ! His local carnival has even gone as far as putting a limit on the number of toys that can be won by one person, which Peter claims is all because of him.
"I don't want to say it's all because of me…. but it's all because of me."
Here's some footage of Peter Drakos doing what Peter Drakos does best: winning fluffy toys at carnivals.
[yframe url='http://www.youtube.com/watch?v=aS6efUGB74c']