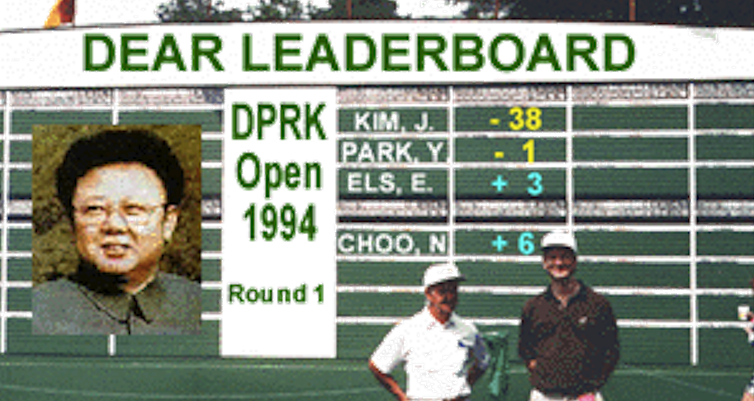 I really hate golf (except crazy golf or maybe even mini golf, both of them are kind of cool) but a lot of my friends like it and everyone is going crazy about Kim Jong-Il right now so I figured it would only be prudent of me to share this story I recently discovered about the dictator's prowess at golf. I'm not sure what the source is but one of my friend's had it as his Facebook status so it must be fairly reliable. I mean, this guy was a doctor. Anyway, here's the story:
"When Pyongyang's first golf course opened in 1994, he (Kim Jong-il) was given the honour of playing the first round. When he came to sign his card at the end, it stated that he had shot a 38-under-par round, which included 11 holes-in-one. His 17 bodyguards were put forward as witnesses to his remarkable feat"
I might not be a golfer myself but that sounds pretty impressive!!! 38 under par!! Wow! I don't think anyone else has ever achieved a score anywhere near that, not even Tiger Woods!  If only he had entered a major or something, the world might have shared a very different view of the late dictator.
Apparently though, upon learning that his score was the best in history – this was also his first and only ever round of golf BTW – Kim Jong-il decided to turn his mind and body to other intellectual and sporting pursuits/being a tyrant as he figured that he didn't need to bother playing golf ever again as he had already proved to the world just how sick he was at it. What a complete sickhead!