It's no surprise that I've found it really amusing how desperate people are to get their fast food intake back into their lives with all the queues that we've seen recently, but I really think we've peaked now after people were issued parking fines because they spent so long waiting for their KFCs.
Images VIA 
It all went down at a KFC drive thru in Rock Ferry, the Wirral, where the CCTV in the parking lot automatically takes pictures of any cars that spend longer than 75 minutes in it and then issue a fine. Even though the vehicles weren't technically parked in the car park and were in a queue, the fines were still issued as many of them were waiting over two hours for their Zinger Tower burger or whatever.
The notices were sent directly to the customers' houses, so for many of them the letter they received was the first they knew about it. The charge was £100 , but this was reduced to £60 if paid within 14 days.
Here's what Hayley Abbot – who was queuing for 90 minutes – had to say about it: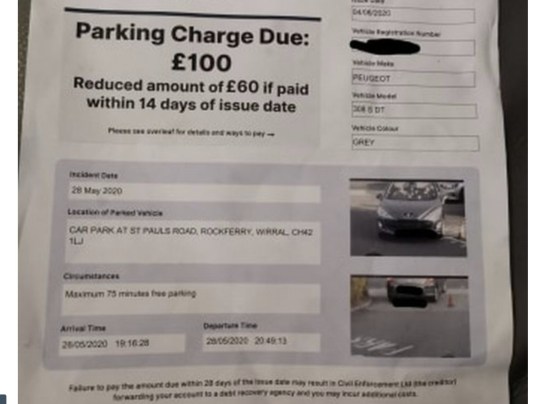 There was a security guard bringing people into the car park and there was no mention of there being a time limit and a possible fine.

Once you're in the queue, you can't get out of it. The cars were bumper to bumper.

I was fuming when I got the parking ticket through the post a few days later.
Hayley did end up challenging the fine and it was cancelled, with many others experiencing a similar response.
I think this was probably an oversight on the part of KFC though as it's an automatic system designed to capture people abusing the car park facilities. I appreciate it's annoying but they've done the right thing and cancelled them so we can probably give it a rest now.
Alternatively, maybe this is just a wake up call for anyone who thinks that it's a good idea to spend two hours of their life queuing up for a KFC meal? Sort your lives out, seriously.
For more of the same, check out these queues for IKEA. Really silly.