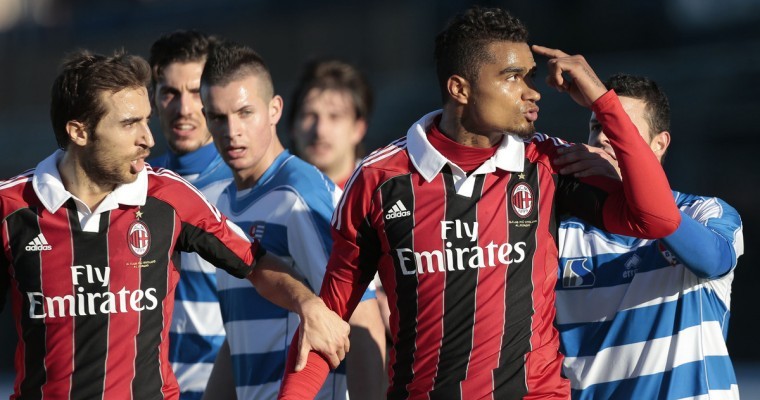 Kevin Prince Boateng is a certified boss. He has always been kind of a boss, but when he was in the reserves at Tottenham and getting relegated at Portsmouth, he just didn't have the CV to back it up. But then he got the chance to rub shoulders with Ronaldinho, Ibrahimovic and Pirlo for a year or so, and now he wears a Rossoneri shirt that says 'PRINCE – 10' on the back and scores wonder-goals against Barcelona in the Champions League, and hence can now be awarded his full boss certificate.
Seen any of these belters? (Sorry about the dubstep.)
[yframe url='http://www.youtube.com/watch?v=SoATENSlJYg']
☛ More: Top Ten Bicycle Kicks Of All Time
Well bosses don't generally take kindly to being racially abused.
Someone should have mentioned this to the fans of Italian fourth-division team Pro Patria, who, while being indulged in a friendly game with AC Milan at their own stadium yesterday, were shouting racists chants at Boateng, Urby Emanuelson, Sulley Muntari and M'Baye Niang from the kick off. They were graced with the presence of the 7-times champions of Europe for a grand of total of 26 minutes before Il treno senza freni ('the train without brakes', as the Milan fans call him) turned the engine off mid-dribble, picked up the ball, turned around and booted it at the disrespectful cunts in the stands. He then began walking towards the changing rooms and taking his shirt off, as the referee obeyed his Ghanaian superior's orders and called off the game.
[yframe url='http://www.youtube.com/watch?v=kpebDIJULeI']
Obviously this is exactly the kind of decisive, uncompromising action that is required to stamp out stuff like racism and referee abuse and diving that make you embarrassed to call yourself a football fan. Of course, it's much easier to call off a friendly game against a team in the fourth division than it is to abandon a title-deciding Manchester derby, but drastic action is the only way changes will happen in the long-term, and it has to start somewhere. I for one can deal with a few seasons of abandoned matches and excessive red cards if it means that several years down the line we have a sport to really be proud of.
The FA and UEFA and all governing bodies need to take a leaf out of Big Bang Boateng's book on being a boss. I salute you, Kev.
☛ More: Kevin Prince Boateng Injured From Too Much Sex
☛ More: Tiziano Crudeli – The Crazy Italian Soccer Commentator