Katie Price AKA Jordan is on a panto run at the moment, and this week shared some photos of her (and Peter Andre's) eight-year-old daughter Princess Tiaami (that's her real name) hanging out backstage wearing full-on make-up like she was going on a night out with the girls.
Featured Image VIA
Here are a couple photos: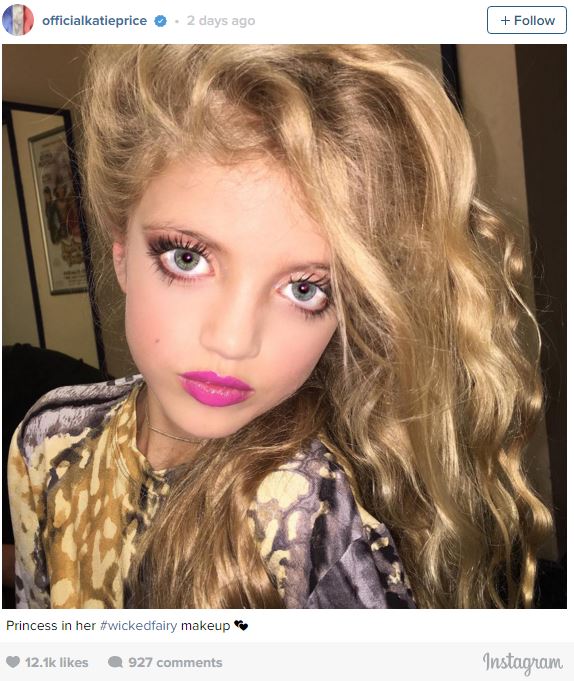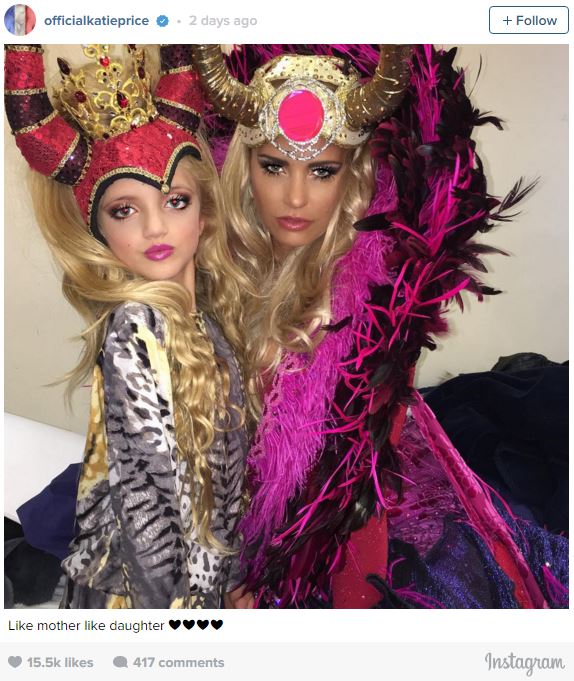 People freaked out about this on social media, because I guess they don't have any problems of their own, prompting little Tiaami to hit back with this Instagram video:
Images VIA
Ha! Told. Definitely came up with that diss all on her own and wasn't told to say it by her mum.
This is a bit of a weird one because while I personally wouldn't choose to have my daughter get so dolled up at 8-years-old, I don't want to start cussing an 8-year-old either (too late?). The fact is though just because this girl is Katie Price's daughter and just because she's dolling herself up like an adult at 8, it absolutely does not mean she's destined for the kind of life her mum led (not that there's anything wrong with that either).
Still, there is something a bit creepy about it at the same time. Reminds me of that film 'Little Miss Sunshine' which I think made most people who watched it uncomfortable.
Let Princess be a little girl, I say. She's got years to go before she should even think about putting on make-up and worrying how she looks in front of boys. Let the girl have a normal childhood.
P.S. Never forget – the mum and daughter who spent £56,000 so they could BOTH look like Katie Price.