Kanye West has fired one of his security guards after he caught him talking to his wife Kim Kardashian in the run-up to the Met Gala on Monday.
Featured Image VIA
Kanye "flew into a fit of rage" and "dramatically sacked" Steve Stanulis after he saw him chatting to Kim outside her hotel room at the Waldorf Astoria, New York.
A guest at the hotel said:
Something happened at the Waldorf Astoria where Kanye just lost it.
Stanulis – who has previously protected Leo DiCaprio and Alanis Morissette – was handing Kim a package that had arrived at reception for her and I guess decided to have a chit-chat with her as well. A witness said Kanye showed up and screamed "This isn't right!" before firing him.
Asked to comment, Stanulis said:
I'm a happily married man with three children and I have no comment.
Here's Kanye with Stanulis: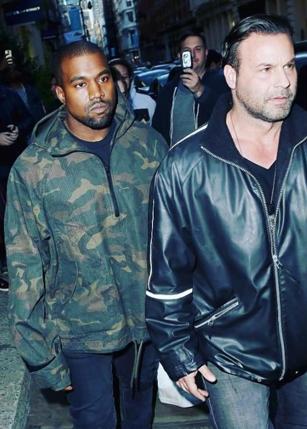 Just another day in the life of Kanye. Everything the guy does has to be insane and dramatic, whether it's his music or his fashion or his Tweets or who he marries or how he fires his bodyguard. A normal person who felt jealous that his partner was talking to someone else would probably bring it up later to their spouse or leave it festering inside until the relationship explodes. Not Kanye though – he'll fire you on the spot and never let you near his wife ever again. As much of a douche as Kanye is, have to admit he's great at being a crazy famous person.