A while ago sick chirpse posted a story about how even Justin Bieber had to post HMU on his status sometimes. Well it looks like he doesn't need to anymore, after recent pictures emerged depicting the teen heartthrob smooching with fellow teen superstar Selena Gomez on a recent holiday on the Caribbean Island of St Lucia.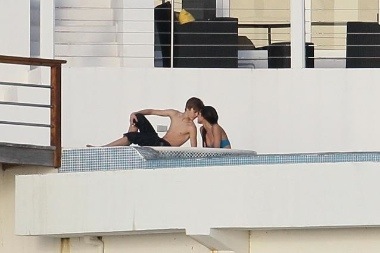 However, the romance hasn't been running smoothly, as Gomez has been subject to a variety of death threats via twitter (what else?) from a shitload of teen girls who have crushes on Justin. Comments such as these have been appearing rapidly in Selena's @mentions column:
'Roses are red, violets are blue, @selenagomez if you'll break @justinbieber's heart I'm gonna kill you'
'@selenagomez If you are the Girlfriend of Justin I will Kill you I HATE YOU :@ !!!'
'@selenagomez whore cancer whore..like i'mm kill myself cuz i saw you and Justin kissing well thankyou Selena thankyou now i'm killing myself'
'@selenagomez stay away from Justin pedophile, retard wait i'm gonna kill ya in the night underneath your smelly bed'
The couple have refused to reply to such comments and have instead decided to make more cutesy photographs of them together (like the one below) before they both head back to the states to play some sold out concerts and continue to be celebrities.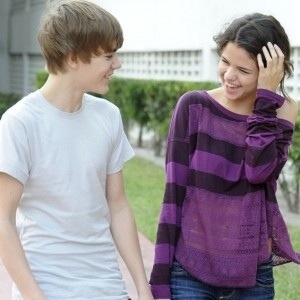 According to urban dictionary, girls such as the ones tweeting Selena are now known as Beliebers, who can be defined either as 'a person who loves Justin Bieber & beliebes in everything that he can do' OR 'a retard who thinks that Justin Bieber has actual talent and is incapable of understanding that she is useless to mankind and a disgrace to music'. Here's one Belieber in action:
httpv://www.youtube.com/watch?v=hxl2-hOwX5c&feature=player_embedded