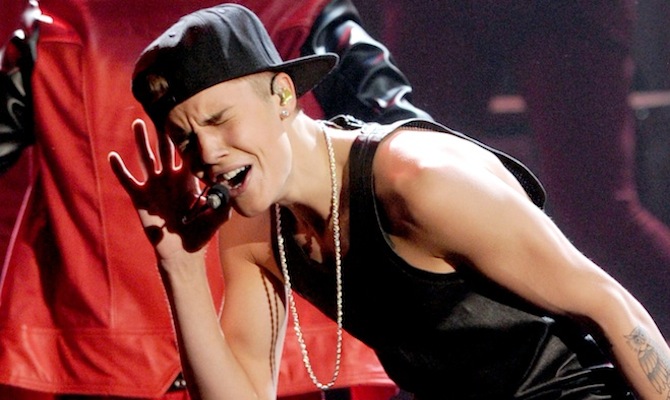 A WAH! It turns out that Justin Bieber is having a shocker of a week. First of all his 19th birthday party was a complete flop (what do you expect when you choose to celebrate it in Birmingham?), and today he'll be awakening to a barrage of abuse from his once loyal fans who are mega pissed off about Bieber's poor show at his London gig last night.
Bieber was beginning his 4 show run of shows at the O2 in London, and was set to take the stage at 8:30PM which is a totally acceptable time considering that the majority of his fans are young school kids who would have needed to get up for school at 7AM this morning. If Bieber had have started at 8:30PM he could have worked through his collection of utterly shit songs and wrapped up by 10:30PM allowing everyone there enough time to get home and get a good night's sleep before school/work the next day. But Bieber being Bieber decided to rock up to his own show 2 hours late, finally making an entrance at 10:30PM. By the time the show finally finished many fans were left stranded as their means of public transport had stopped running. Others decided that they didn't want to wait 2 more hours to see Bieber whine like a little bitch on stage so headed home early, missing the headline act in its entirety.
When Bieber finally made it onto the stage at the O2 he was met with a chorus of boos, which one can only take great pleasure in watching. Check it out below before Justin Bieber's lawyers get anal on everyone and try and pull every single video of the event from the internet.
☛ More From Bieber:
A WAH! Justin Bieber Has The Worst Birthday Party Ever
Sankeys Refused Justin Bieber Entry To Protect Their Image

Justin Bieber Gropes A Belieber At A Meet And Greet
[yframe url='http://www.youtube.com/watch?v=Xd0HxD2PVLw']