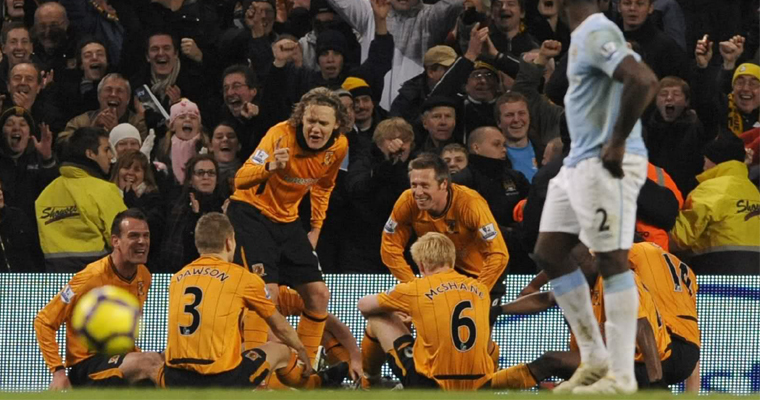 Milton Keynes Don's central midfield dynamo and football funboy Jimmy Bullard has retired from playing the beautiful game aged 33.
The London born former Hull, Wigan, Fulham and Ipswich player has called time on his illustrious career citing his chronic knee problems as the main reason for him quitting.
Bullard began life at non league Gravesend & Northfleet before signing professionally for West Ham whom he failed to make an appearance for.  He went onto Peterborough where he turned the head of then Wigan Athetlic Manager Paul Jewell who signed him for £275,000. Jimmy quickly became a cult figure at Wigan and across the country as people took a shine to his footballing ability and off-field antics – like rock, paper, scissors for who takes the pens:
[yframe url='http://www.youtube.com/watch?v=f83e8Yqdsvc']
Bullard then joined Fulham for £2.5 mil where he had an injury plagued 3 years before impressing enough to get snapped up by Phil Brown's newly promoted Hull City for a cool £5 million.  Despite getting injured on his debut he managed a couple of years with The Tigers; where he truly came into his own before being handed off to Ipswich in 2011 after a swift loan spell, before moving to the Dons this Summer to make the most of League One football.
Despite his knee injuries flairing up time and time again he still managed 312 league games for six different clubs, scoring 39 goals.
[yframe url='http://www.youtube.com/watch?v=uyZ7TfC5shU']
Bullard has come out and said that after seeing a specialist he has chosen to wrap up his career, summing it up for the BBC with the following comments:
"My old knee injury has never allowed me to get back to where I want to be as a football player.  I want to be out there playing but at the same time I know my knee won't allow me to play at my best and to keep my place in the team."
But let's not remember old Jimmy as a haggered waster has-been with dodgy knees – let's remember the good times. Like when he would turn up late for training because him and Michael "Choppers" Chopra have been out with strippers until 6am in Newcastle or when he fancied having a pop at recording an advert for Wash & Go's 21 year anniversary. Here's a youtube clip of the best of Jimmy:
[yframe url='http://www.youtube.com/watch?v=ukn0D5DLYxg']
God speed Jimmy B, god speed.
Follow AMJ @amjeezie