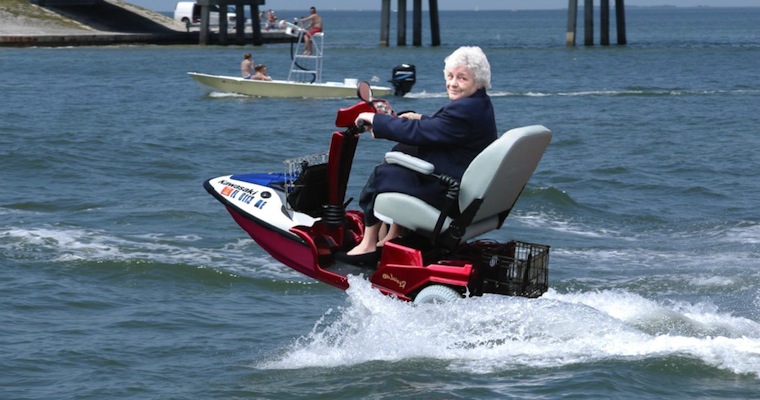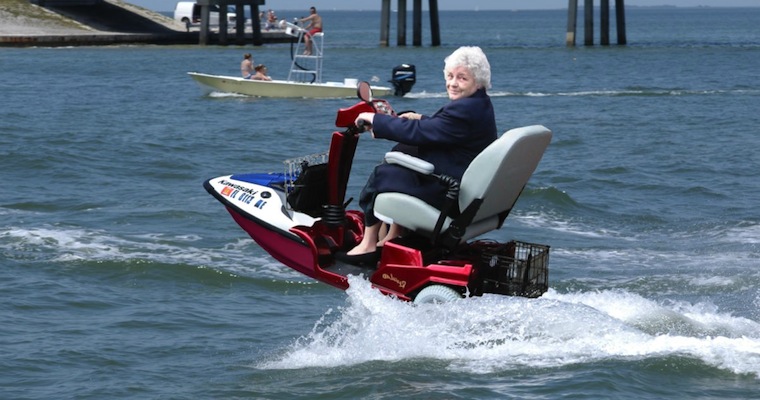 Sorry, that photo is unrelated. As much as I'd absolutely love to be posting a video of an old aged pensioner riding a modified mobility scooter and jet ski hybrid, I'm not.
Do you all remember when parts of England were flooded earlier in the year and folk set out on their semi-normal day to day business floating around on kayaks? Well it happened and it was pretty funny and made me kind of jealous that my area wasn't flooded and that I didn't own a kayak because I think floating around your town on a kayak while it's flooded would be a really fun thing to do, especially as you'd have the day off work/school as it would be guilt less fun. Add a couple of doobs in to that equation and you're gonna be having a really, really great time.
☛ More: Why Hurricane Sandy Will Destroy You
Well this video is kinda similar, but way doper. It was filmed yesterday when Hurricane Sandy/Frankenstorm was fast approaching the East Coast of America and about to fvck everyone's shit up. New Jersey became flooded and one absolute genius (although having already been strongly advised to evacuate to a safe spot) decided it was the perfect time to whip out the jet ski and go for a sput around town. Fan-fvcking-tastic. Check it:
[yframe url='http://www.youtube.com/watch?v=ujxQFgCms1A']

Next check out these guys having almost as much fun as jet ski dude during Hurricane Sandy.