I think it's well chronicled that we like Breaking Bad on Sick Chirpse. It's a shame we don't like Radiohead more though because if we had been maybe half as cool as the guy who wrote this awesome Gumtree advert than we might have got to hang out with Aaron Paul who plays Jesse Pinkman. Turns out he was at the Radiohead concert in London on Monday with none other than Pierce Brosnan. He tweeted this picture of the two having a really great time which is pretty bizarre. I mean how the hell does Jesse Pinkman know Pierce Brosnan? Unless he was dealing him meth I guess maybe: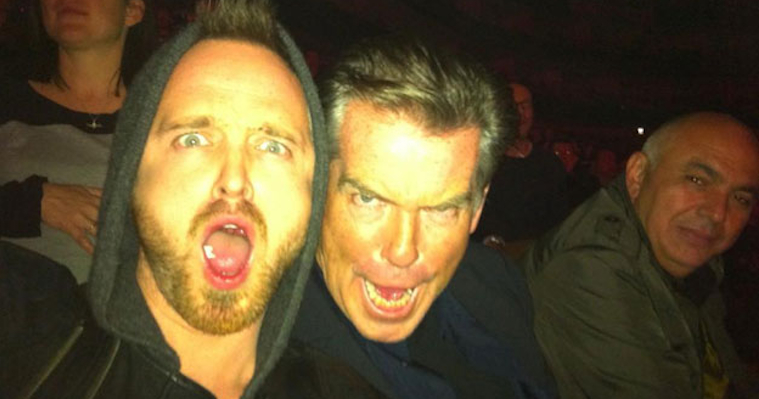 Anyway, Aaron later tweeted that the show was really awesome but he almost got thrown out of the O2 arena for dancing too hard to them. I always figured Radiohead was more chilled out music that you wouldn't exactly be moshing too, or even really dancing too – probably more just laying back and smoking some meth and zoning out to it – but then I haven't really listened to Radiohead since the 90's so maybe they made some dance numbers. I'm sorry, I'm ignorant. Anyway, Aaron was really angry about the way he was treated by the O2 arena staff, as demonstrated by some of his tweets: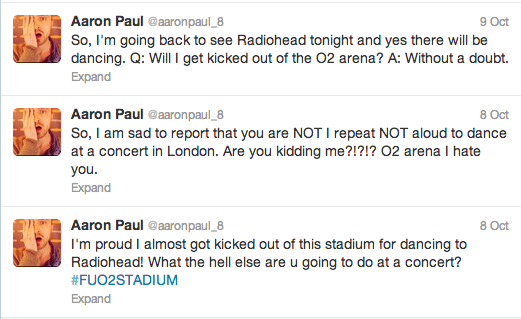 So yeah, it turned out that Aaron Paul enjoyed the Radiohead concert so much that he was gonna go back and see them again tomorrow night and he was gonna dance and there was nothing that O2 security could do to stop him. Yeah bitch! it gets even better though because later on he tweeted a link to this Gumtree advert from a spurned lover selling his two spare tickets for the Radiohead concert after his girlfriend had cheated on him. Check it out below: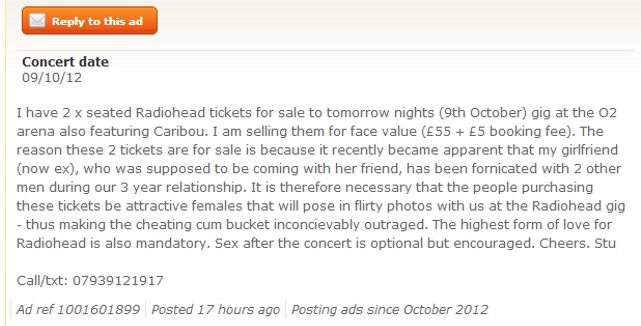 It's a pretty awesome message but not particularly better than any other troll message I've seen recently. It's pretty awesome that Aaron Paul tweeted his exact seat number for the Radiohead concert though so he could come hang out, if I would have been at the Radiohead show I would definitely have rocked right up there and pretended to be that guy just to hang out with him. Unfortunately it looks as though the guy wasn't a Breaking Bad fan or at least didn't follow Aaron on twitter because he tweeted this this morning:

Bummer. Still, the whole incident made the idea of going to a Radiohead concert a lot more appealing to me. Maybe I'll pick up tickets next time they come around. Who the hell is hiccup girl though?
More Breaking Bad on Sick Chirpse: