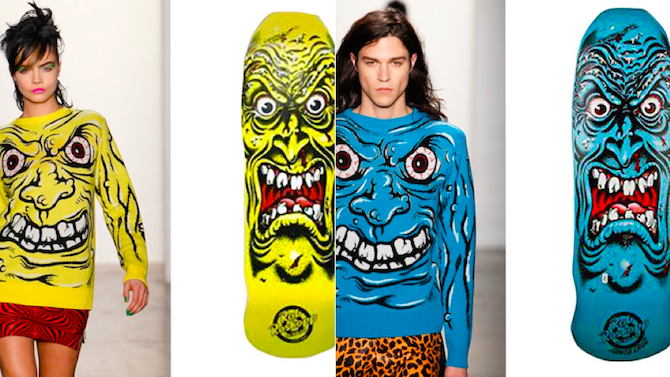 This is a story that has been going on for a while now and – as something of a skate culture obsessive – I had considered writing about previously, but I chose to sit and let it develop and see what happened. However now with continued silence from guilty party, I feel the need more and more to speak out on the issue. This is the story of the misuse of some of the most iconic skateboard artwork ever created.
I don't pretend to be an expert when it comes to fashion but coming from a creative background, I do take an interest when the various fashion weeks roll round and as a long time skateboarder, one show this season caught my attention more than most.
☛ More Fashion – Chinese Facekinis Are Down Right Stupid
That show was Jeremy Scott's – famed for his collaboration with Adidas, and someone who is fast becoming a big name in Streetwear. He presented a collection that if any skateboarder worth their salt was to see would instantly be able to tell you where he got his inspiration from, including myself. I thought it was curious that he had chosen such iconic skate culture art as the mainstay of the show, but the credit was there for pushing that boundary.
Scott has been known to sample from pop culture in the past (last year it was The Simpsons) so it was only on closer inspection I noticed differences in the designs – differences that lessened the original artwork. Why would you take a colab and make it look worse?
Well as it transpired over the next couple of weeks via the Phillips family's (The artists who originally created the designs) and Santa Cruz' facebook pages, Jeremy Scott did not actually have a legitimate collaboration as he had chosen to take the artwork without consent and slightly alter the designs and spew them all over his clothes.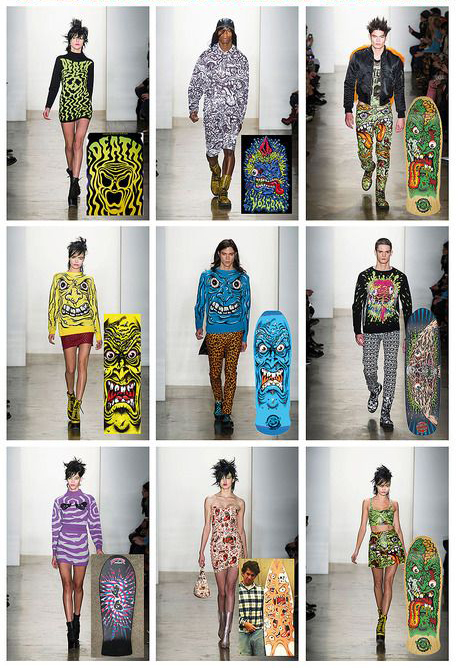 A statement from Santa Cruz read:
"This is not a collaboration or under license, nor did we or the Phillips family approve the use of this artwork on Jeremy Scott's apparel designs in any way."
Understandably the skateboard community has been up in arms about this, sending abuse over whatever social media format possible, and quite rightly so – if anyone has examples please leave them in the comments as there are some great ones in there. The abuse ran so furiously and to such an extent that Scott actually had to shut down his Facebook page and has now started a new one – with a more vigilant social media team deleting anything that could even remotely be seen as abuse or a link to this debacle.
Why did Jeremy Scott deem it acceptable to take artwork – and such iconic artwork no less! – without first contacting the artists or the licensors? He had the courtesy to sort a license deal with Fox for The Simpsons, but the skate community doesn't deserve the same respect!? Bad fucking move pal.
For someone so prominent in street culture to show such blatant disregard for a large part of that culture is just plain ignorant, massively arrogant, and offensive. Before streetwear became such a massive, lucrative machine, it was a counter culture, like the punks and skateboarding – a counter culture that Scott leaches off, and would be nothing without.
☛ OG Skateboarding – 50 Year Old Guy Ripping It Up At The Skatepark
It's been over a month since Scott's show, and despite attempts to contact Scott from the Press, the Phillips family and Santa Cruz, no official word has been heard. Fear? Or Arrogance? I'd like to say the former but all this says to the people waiting for an answer is that Scott is an arrogant prick – a man who thought he could take what he wanted and get away with it. There's no denying the source of his 'inspiration' with even Elle magazine running a story, were Scott's own team let slip his intentions: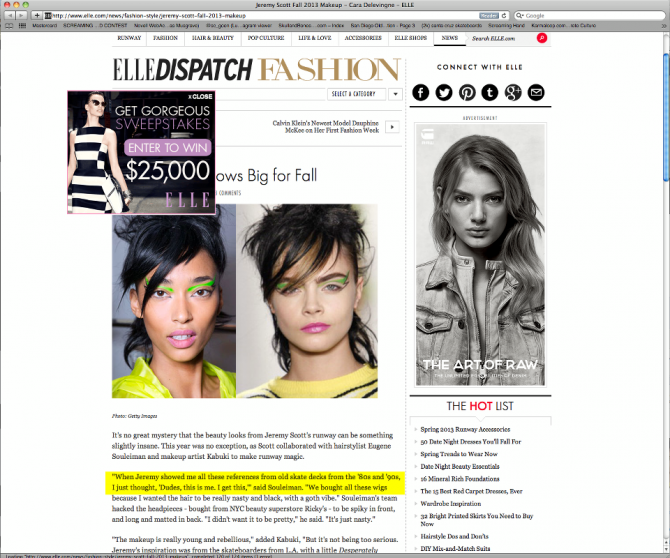 If you can't read that (sorry it's small but we wanted to illustrate that it was on the Elle magazine website) it says: 'When Jeremy showed me all these references from old skate decks from the 80's and 90's, I just thought 'Dude, this is me. I get this.' So yeah, his inspiration couldn't really be more black and white could it?
So does Scott think that if he stays quite long enough that the heat will go away? I can't help but feel strongly that this is someone who thought he was above a culture and has massively underestimated the consequences of his actions. Skateboarders can be forgiving, there is still time, but it will always be a culture that has a tribal spirit. To him they might just be 'cool designs' but to the tribes, these are gang signs, sigils, something to be earned and respected, more than an illustration on an item of clothing, more than consumer culture and for their misuse and misunderstanding there will always be a backlash.
Jeremy Scott has created some cool clothing over the years – I myself was hyped to find some x-ray jogging bottoms in an outlet a few years ago – but I can't help but feel the ignorance shown has undone anything of merit he did in the past, with certain people already denouncing any brand he has worked with.
☛ VIDEO: Kilian Martin Releases Another Arty Monster – Kilian Martin: Internal Departure
One final issue to consider here, is something that affects the wider scope rather than just skateboard culture: the devaluation of great artwork. Just like a kid of today who might see the steaming piles that are Episode I, II, or III of the Star Wars saga before the original three. We're running the risk of history and culture being diluted.
Maybe I'm getting a little over passionate here, but if I was to ever hear someone refer to a Phillips design as in likeness to a Jeremy Scott one, I'd feel obliged to exact some Clockwork Orange style reconditioning on the poor bastard. What's worse is at least in the case of Star Wars, the artist pissed in the wind. The Phillips family, or Santa Cruz for that matter weren't even cock in hand.