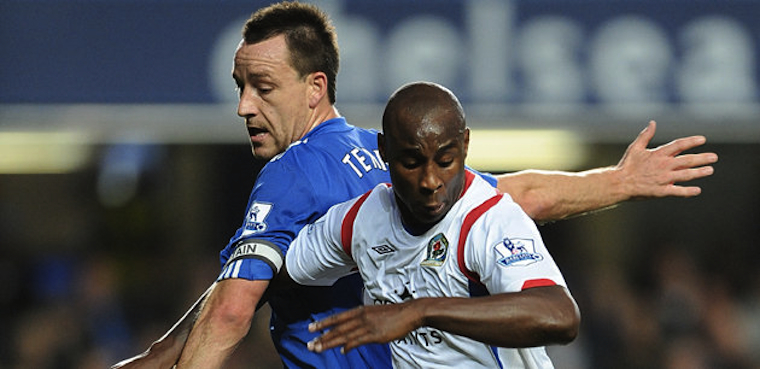 NB This interview took place before Fabio Capello resigned as England manager on Wednesday.
On the back of Jason Roberts' claims that taking John Terry to the 2012 European Championships would create a "toxic atmosphere within the camp" Sick Chirpse has put Jason on the spot looking for some justification. Our "investigative" journalists" were granted the following interview:
Jason Roberts (JR) Hello…?!
JR: Hello?
Sick Chirpse (SC) : Hi there Jason it's George Adebole calling from Sick Chirpse in reference to the comments you made recently about the current England captain John Terry.
JR: Oh right, Hi.
SC: We were just hoping that you might be able to back up your claims that the Chelsea man's presence at the Euros in 012 would cause disruption among the other players.
JR: At the end of the day I think my opinions can be pretty easily justified:
Firstly, if you take a look back to he most recent tournaments we have participated in from that horrific night at Wembley in 1996 – where Gareth Southgate cemented himself in our memories before returning as the right hand man to Adrian "smug brummy twat" Chiles as football's most annoying commentator — the reason England have been knocked out of the competitions has been due to penalties 57% of the time.
1996 vs Germany — What's the quickest way out of Wembley? Through the SouthGate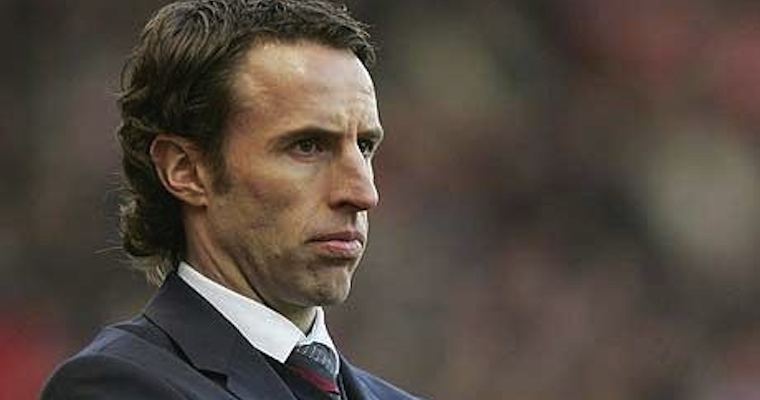 1998 vs The Argentinians – Michael Owen scores a wonder goal but Roa saves the day for Argentina.
2000 — Didn't get the opportunity to get knocked out on penalties because the group stages
were too tough. (Portugal/Germany/Romania)
2002 vs Brazil – The world awakens to the goofy toothed Casanova Ronaldinho
2004 vs Portugal— Sol Campbell has a goal disallowed and Darius Vassell misses the all important penalty.
2006 vs Portugal – The winker Cristiano Ronaldo cements himself as a fan favourite in the majority of the United Kingdom as Portugal stopper Ricardo keeps England out.
2008 — FA forgot to book tickets so we didn't go.
2010 — What a waste of time……..
(Sick Chirpse looked up to confirm this figure and if the debacle of 2008 is overlooked it is true).
Now, I'm not a scientific man, far from it, but, it looks more than likely that when/if we are knocked out of the 2012 Championships it could be for this reason: Penalties.
If we look at Mr.Terry's record with penalties the one that springs to mind is the night in Moscow in 2008. What better way to evaluate the ability of a player to step up when the time is needed to put his team/country over the precipice of greatness? And what did he do……….
[yframe url='http://www.youtube.com/watch?v=Tb0Cc4u4b_k']
The actual clip was considered so horrific and deemed "too distressing for some younger viewers" that it was actually edited for audiences at home. Here's the edited version:
[yframe url='http://www.youtube.com/watch?v=0o3xY2L-77I']
On this evidence I feel that the presence of John Terry in the England dressing room will create the toxic atmosphere I previously described as the rest of the squad will know that he is partial to slipping up at the most vital of times – See also this season V Arsenal in letting RVP in to score the winner, and also V Wigan to let Jordi Gomez score an equaliser. Simply put I don't think that the rest of the squad will feel like they can rely on him in high pressure situations, and this will create and atmosphere of resentment around the camp.
SC: Okay Jason, that's fairly solid data you are handling there. Is there anything else you want to add?
JR: Well, the Battle of the Bridge was where it all began and the swerving of Wayne Bridge's hand became a very poignant image and advertisement of the atmosphere that was in the England camp as the captain goes and has sex with the mother of Wayne's child. Classic morals, well done.
So from that moment on — even with Wayne Bridge withdrawing his availability for the World Cup – we now have a split in opinion over the matter of JT's popularity in the England camp. The Manchester City players, Joe Hart, SWP, Gareth Barry (plus his bum chum Stevie G) are now all bound to be at least somewhat nonchalant towards the captain. In addition to this I'm sure Calamity James would not have been particularly happy either.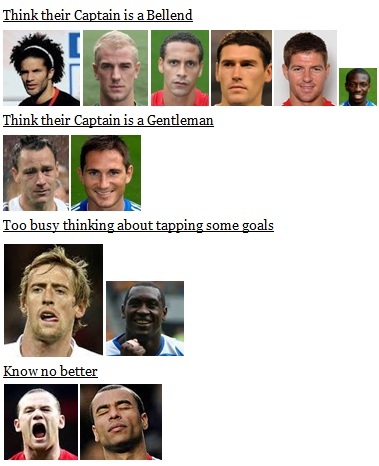 SC: That's a really great infographic Jason, did you make it yourself?
JR: No I got someone who follows me on twitter to do it. I think he was a 14 year old boy.
SC: Ok stop right there. Aside from that are you aware that there are a couple of elements wrong with the infographic? For example David James has retired from international football and probably doesn't know Wayne Bridge as they didn't play together at Man City? Or that Rio Ferdinand play for Man Utd not Man city? And that Shaun Wright Philips hasn't played for England for about 5 years? Emile Heskey has also retired from international football and has a worse strike rate internationally than you do in the Premiership.
JR: I don't think any of that changes the information displayed on the infographic. Or the fact that it's a really great infographic. I think with infographics like that I can definitely get a job on MOTD2 as a pundit when I retire.
SC: You haven't retired yet?
JR: No, I just signed for Reading and scored on my debut.
SC: Wow, must have missed that one. I guess that qualifies you more than anyone to speak about the England team.
JR: You would be correct. Furthermore I've prepared a second infographic. Well, another young Reading fan prepared it but I researched the information. Below I have highlighted some general opinions in regards to John Terry over the recent years. These are not a choice few, I have simply provided you all of them so as not to look bias. They're taken from one of my favourite websites truelad.com, a factual site which I am often featured on.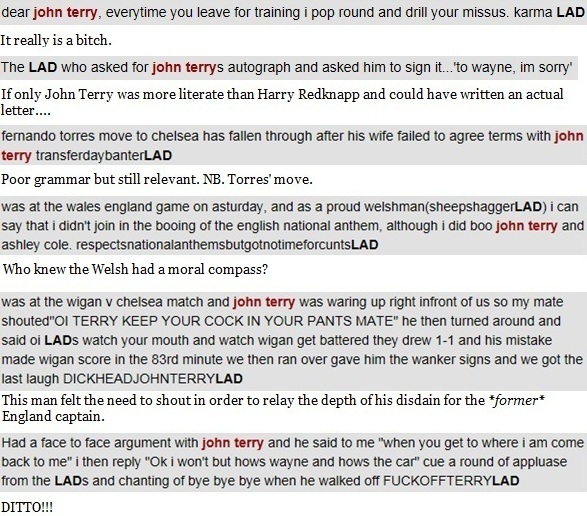 As you can see from the infographic, his behavior simply does not co-inside with that of a leader. Yes, his commitment is unwavering – as underlined by his salmon jump in the last World Cup – but is he so gifted and indispensable an asset that he merits a place despite all this? Is his ability such a necessity that it justifies the controversy, gossip and disgruntlement of others? Undoubtedly this takes a huge amount away from the togetherness that all great teams seek and creates a toxic environment for all. His penalty taking ability and recent mistakes just accentuate this to boiling point.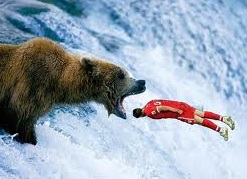 SC: Wow, thanks for that Jason. Your analysis looks a pretty thorough assessment of conditions inside the England camp. Just a couple of final questions. We actually called you about this as we wanted to talk about the racism row currently surrounding John Terry and Anton Ferdinand, have you got an opinion on this!?
JR: Racism row!?! I was unaware of this. I guess we don't hear about that kind of big boy stuff when you're playing in the Championship.
SC: Right? So your tweet about it creating a toxic atmosphere in the dressing room was completely unrelated to the racism incident and just a coinicidence?
JR: Yeah, I guess so.
SC: Great! Really astute analysis Jason. One final question: how many times have you actually been in an England dressing room?
JR: Well, Wigan played at the Millennium Stadium once in the League Cup final, that's pretty much the equivalent right? It was against Manchester United so there were a lot of England players in the other dressing room.
SC: Thanks for your time Jason.
Sick Chirpse asked for a statement from John George Terry's people in response to Jason Roberts'interview. They issued the following "off the record" response:
"Jason, Jason who? Oh him? he can piss off that f****** b**** vegan c***."