VR and VR porn is lauded as the next big thing in video gaming – although you could realistically make the argument that it's happening right now as well – but it seems like people still aren't quite aware of just how big it is following events in Japan over the weekend.
Images VIA 
That's because a VR porn festival had been set up which allowed consumers to try out new advancements in the industry. Unfortunately, organisers vastly underestimated the amount of people that were going to show up for it (schoolboy error really when you're promoting those wares) and the event had to be cancelled way before most attendees got to where they needed to be – if you know what I mean – due to overcrowding.
Here's what a Japanese reporter said about the event:
The event didn't start until 2pm, so I went there in high spirits an hour before then, but the city was already overflowing with people. There were so many that it was almost impossible to keep the situation under control.

While waiting for my friends, I couldn't help but think that if they couldn't control the mass of people, a riot or something similar could happen. The 20 lucky guys closest to the building were let in by the staff. I'm sure there was a line inside the building that rivalled the one outside.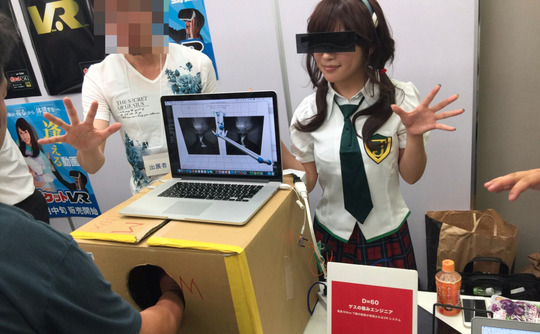 Wow – he sounds a bit butthurt about the fact he couldn't get in huh? Anyway, those 20 guys got to sample some of the ridiculous new VR attractions at the festival whilst the reporter and hundreds of other people just got to walk around the town crying about the fact they missed out. Unlucky.
Some of the VR machines sound absolutely ridiculous though. There was one (pictured above) that blows air on your hands to simulate a girl's breasts whilst you play with them in VR. There's also a legless and armless female mannequin designed to be fondled and gripped by the user while he has sex with it in VR and presumably jerks off. Surely that's a form of amputee porn?
There's also the device you can see below, which is surely going to jerk you off whilst someone in VR does it as well. I doubt it's going to be that gentle though from how unforgiving it looks there. I don't think I would want that to jerk me off if I got the option, but who knows.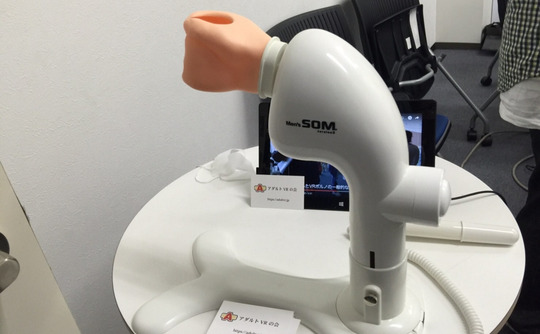 With such wondrous attractions on display I can kind of see why that reporter was so gutted he didn't get into the festival. The only question I might have is that surely most of these contraptions require you to masturbate whilst using them, and were people really going to do that in the middle of a festival? I suppose technically you're in VR so you might not feel self conscious about it, but if everyone was planning on doing it and spunking everywhere I'm not surprised it got shut down. What a mess that could have been.
People need to be careful with this new technology though – this guy is claiming that VR porn almost killed him.