With Tommy Fury p*ssying out of the Jake Paul fight for the millionth time, the YouTuber has secured a new opponent for August 6th at Madison Square Garden – former sparring partner Hasim Rahman Jr; the son of former world heavyweight champion Hasim Rahman (once beat Lennox Lewis).
Rahman is actually a much tougher fight than Fury, with over 100+ amateur fights under his belt and a 12-1 professional record. Although, like Fury, he's fought a lot of tomato cans: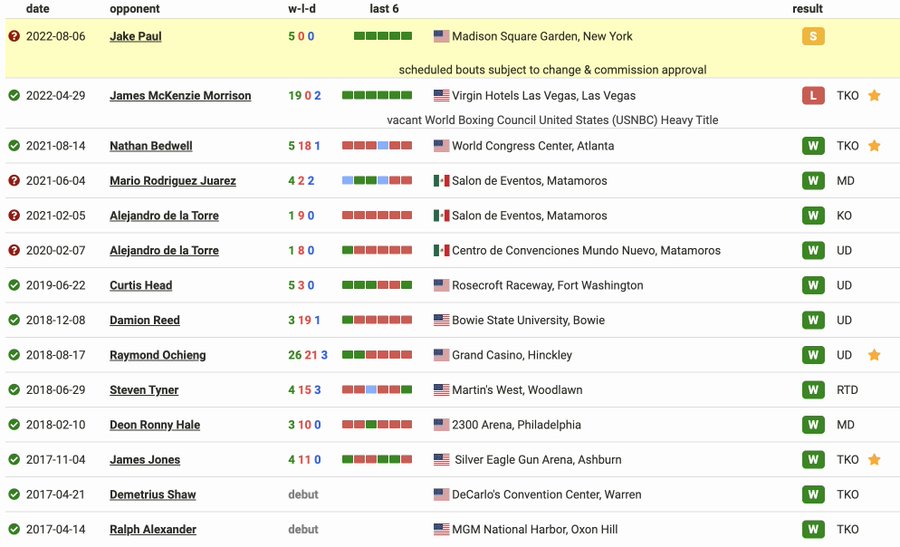 As you can see, the moment he fought someone with an impressive record, he got TKO'd. Still, he'll be the first proper boxer Jake Paul has ever fought, and he's got a point to prove given who his dad is. It appears he also has a bone to pick personally with Jake, having been disrespected by him during a sparring session 18 months ago and almost coming to blows. Here's the footage:
When Jake Paul clashed with his next opponent Hasim Rahman Jr after their sparring session 18 months ago…

[📽️ @JakePaul] pic.twitter.com/YD48PIQAGg

— Michael Benson (@MichaelBensonn) July 7, 2022
Apparently these sparring sessions aren't quite 'spars' so much as boxers being recruited to be punching bags for Jake Paul, so he can practice his combos and whatnot while being trained up. Well it seems Jake was taking liberties and/or being cocky after the session, which Rahman did not appreciate at all. Rahman seems to be reminding Jake that he's there specifically to take punches and not hurt him, which we can see was the case in the clip below where's he's just covering up and not fighting back:
Clip of Jake sparring Hasim Rahman Jr.@JoseSpammer_ @WadePlem pic.twitter.com/zYxLqX7aFb

— bvo (@bvo0o) July 6, 2022
At least now, Jake Paul certainly seems to be treating him with more respect than he does Tommy Fury (understandable):
✅ Bigger
✅ Stronger
✅ More experienced
✅ KO power

But it doesn't matter. They don't have my heart, don't have my drive & definitely don't have my team.

August 6 I'm showing the world that Jake Paul is a bad mother fucker.

Press conference & ticket on-sale Tuesday 1pm ET. pic.twitter.com/sYAvCr0Cxu

— Jake Paul (@jakepaul) July 7, 2022
The best part is that Rahman is actually up for this and so won't be pulling out Tommy Fury-style at the last second. All the pressure is on Jake Paul to sell this fight since no one knows who Rahman is so if he manages to do that and beat the guy then that will be impressive for sure. Should be a decent fight come August 6th.
We'll leave you with Hasim Rahman Jr's career highlights thus far:
To watch a female boxer batter a guy for pouring a pint over her head after she rejected him, click HERE.