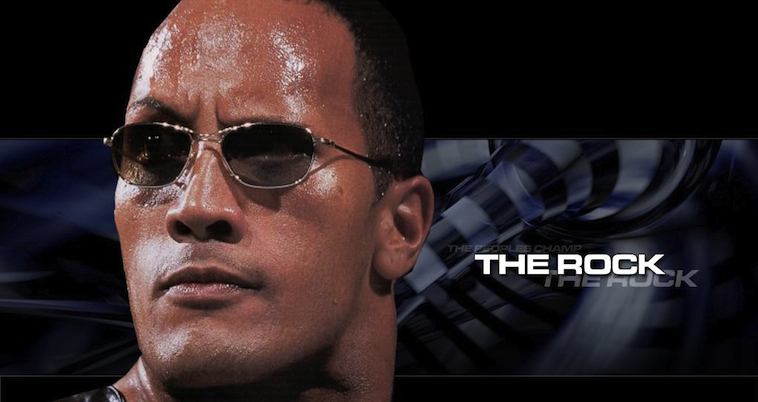 I got really really excited back in February (I think?) when The Rock returned to WWE and did a really cool speech. So excited in fact that somebody who read my synopsis said that it sounded like I was jizzing my pants as I wrote it. I wasn't, but I'm not gonna lie I was definitely pretty excited. But no boners.
Then I promptly got bored of WWE and didn't really tune in the rest of the year, except at Wrestlemania when I saw that the Rock cost John Cena the title for no real reason. I heard the Rock and John Cena teamed up at Survivor Series in a tag match or something, but I didn't care and didn't watch it. Having said that I'll probably tune into Royal Rumble next month though. That's always the best one, you know it.
Anyway, this isn't an article about what I think (or don't know) about wrestling at the moment, it's about how I found this awesome montage of the best of The Rock's 'IT DOESN'T MATTER' moments. Even people that don't like wrestling can appreciate how funny and cool The Rock was back in his prime, and 'IT DOESN'T MATTER' was probably his finest hour. It was so good it even prompted a collaboration with Wyclef Jean that ended up being a major (very minor) chart hit.
Here's the collection of the best 'IT DOESN'T MATTER's – The Rock gets everyone: Mankind, HHH, Vince McMahon, Y2J, The Dudley Boyz, Jonathan Coachman, The Radicals, Michael Cole and even himself! The one thing about IT DOESN'T MATTER is that it never gets boring. It's a great Xmas present! Check it out below. IT DOESN'T MATTER if you check it out below!
[yframe url='http://www.youtube.com/watch?v=ffo3_fO_RA8′]