The area of Tunisia known as Tataouine, which doubled as Tatooine (see what they did there?) in the Star Wars movies, has allegedly been taken over by ISIS.
Tourists and fans are being warned to stay away from the area. Apparently the town – whose cliffs and deserts served as the backdrop for Luke Skywalker's home world in the movies – has become a waypoint for militants attempting to cross the nearby border into Libya where they can link up with ISIS cells.
CNN has reported that two weapons caches were found in the area this month alone, with one containing rocket-propelled grenade launchers and more than 20,000 rounds of ammunition. Good thing they found that as God knows what they were planning on doing with that stuff.
Of course, ISIS also claimed responsibility for the terror attack on the Bardo National Museum in the capital of Tunis last week as well, which left 23 people dead. It was revealed that the men responsible for the attack were Tunisians who had been trained in Liberia which again serves to promote the theory that Tataouine is being used as a waypoint.
Featured Image VIA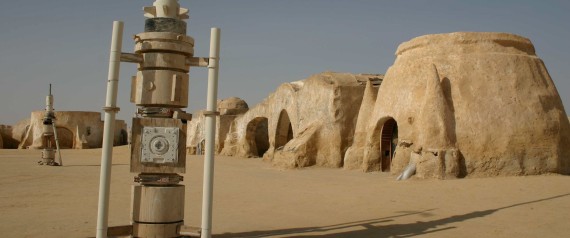 Image VIA
Several governments have issued warnings in the wake of these incidents to avoid travelling in the area – and other sites in the country that served as locations in Star Wars like Nefta – with the U.S government coming up with this particularly weighty statement:
U.S. citizens are reminded to exercise caution and avoid areas where large gatherings may occur. Even demonstrations or events intended to be peaceful can turn confrontational and possibly escalate into violence. U.S. citizens should monitor local events, report suspicious activity to the local police, and take appropriate steps to bolster their own security.

The U.S. Embassy reiterates our standing guidance that U.S. citizens in Tunisia should exercise caution when frequenting public venues that are visited by large numbers of foreigners, such as hotels, shopping centers, and tourist sites and restaurants. U.S. citizens should also be alert to the possibility of kidnapping.
Grim. If you had a vacation planned there I would cancel it. Watch this trailer to Star Wars Episode VII to tide you over instead.