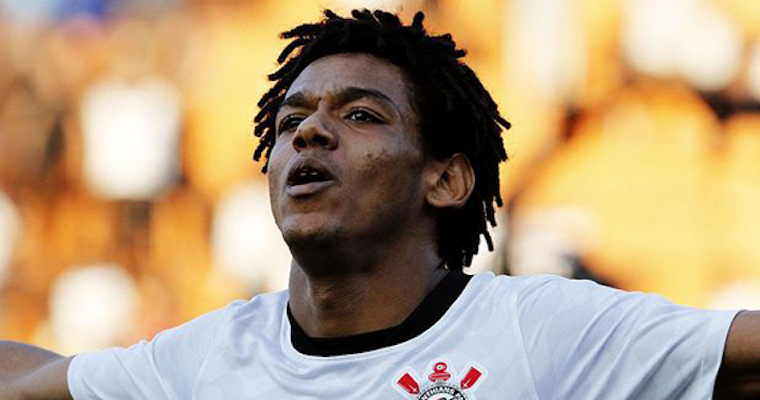 Romarinho is Romario's son. Remember Romario in World Cup '94? Maybe you're too young to remember but it was the first World Cup I really paid attention to and I remember it pretty much being a competition between Romario and Roberto Baggio as to who was the biggest sickhead, a competition that Romario clearly won by not spanking his penalty over the bar in the final and actually winning the World Cup that year. Although he didn't play in any other World Cups after that Romario is still remembered as a massive sickhead, largely thanks to this tournament but also due to when he played for Barcelona alongside Stoichkov and Guardiola and just bossed it basically. He's also one of the players, alongside Puskas and Pele who reckons he has scored 1000 goals, although there's a big debate going on about whether this is true or not. In any case you can't really doubt that Romario is a sickhead.
So who's Romarinho? Only his son, obviously. Romarinho only made his debut for Corinthians over in Brazil a couple of weeks ago but people are already talking about how he might end up being as sick as his father. No, actually that is completely wrong. I began writing this article under the impression that the Romarinho that plays for Corinthians was the same as the Romarinho that is Romario's son, but no there are obviously two different Romarinho's. I thought about scrapping the article but then I though I had already written most of it and found the goals and it looks like this Romarinho is a complete sickhead, and also that it was pretty LOLZ that I got caught out over something so stupid.
So yeah, the Romarinho that plays for Corinthians isn't Romario's son but he's still pretty sick. He only signed for them a couple of weeks ago but scored both their goals in their win over historic rivals Palmeiras a couple of weeks ago, and then scored the equaliser for Corinthians against Boca Juniors in the Copa Libertadores final last week. If you didn't know, the Copa Libertadores is the South American equivalent of the Champions League. For some reasons the final is two legs in South America and Corinthians went on to win 2-0 at home and win their first ever Copa Libertadores title. Juan Roman Riquelme also retired after that game. Romarinho didn't do much in that game (not sure if he even played) but it doesn't change the fact that all three of his goals have been completely sickhead and he's going to be a big name in the future. Also, he has sick hair. Check out the videos below:
[yframe url='http://www.youtube.com/watch?v=gBJH5c9An5U']
[yframe url='http://www.youtube.com/watch?v=h-KtH1bmZrg']
As for the Romarinho who is Romario's son, things aren't going so well for him. He just got released by Vasco Da Gama in Brazil but has got a trial with Barcelona. I guess that isn't bad but it seems as though these clubs are only having a look at him because Romario is his dad. I guess I could be wrong though, and maybe we'll see him playing alongside Lionel Messi in a couple of seasons. His highlight reel in this video isn't that impressive though – it's mainly penalties!
 [yframe url='http://www.youtube.com/watch?v=eAC0bIUwzIk']