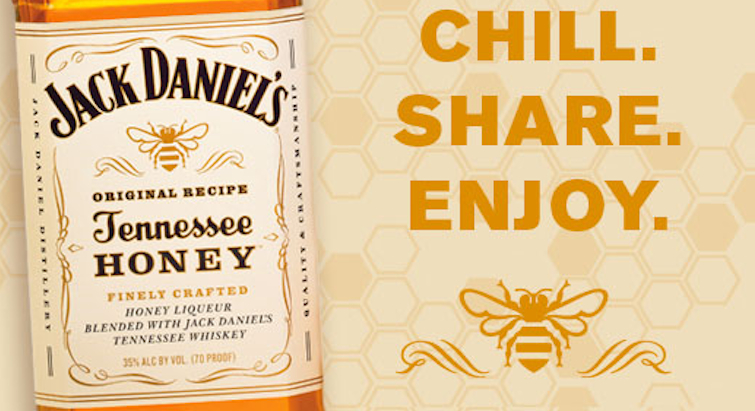 Jack Daniel's Tennessee Whiskey Number 7 has always been a favourite of mine. I think the first time I tasted its unique flavour was on some of those baby back ribs that you can get from TGI Friday's – back then I probably didn't realise it but I know now that it was the unique charcoaled Jack Daniel's smack that really brought out the flavour and texture of the ribs. At the time I probably thought it was the ribs themselves, but since then I met somebody who worked in TGI Friday's who told me that most of the time they microwaved the ribs, so it definitely wasn't those.
I started drinking whiskey regularly towards the end of my university career and I immediately fell in love with the smooth Jack Daniel's taste. Although I would sample other whiskey's I never really felt like they delivered in the taste department the way my old friend Jack did. More and more often I found myself buying a bottle of Jack Daniel's and sharing it with friends before a night out rather than my traditional 6 cans of Fosters. Times were changing, and so were my drinking habits. I was becoming older, and dare I say it, slightly more cultured. Of course, the fact I was now drinking Jack Daniel's before a night out meant that they tended to become slightly messier, but this wasn't a problem as those nights tend to give you the stories that will last a lifetime. Like the time I partied with Leatherface from the Texas Chainsaw Massacre movie, or the first time I heard dubstep at a pool party I was randomly invited to in the middle of the country. I still remember every single detail from those nights, and that Jack Daniel's was heavily involved. I'm not saying it made the night, but maybe time does move a little slower when you're drinking it.
So you can understand why I'm pretty excited that there's a new addition to the Jack Daniel's family (the first in 10 years so you know it's kind of a big deal) coming out in the UK pretty shortly and I was even more stoked when they sent me a free sample of it. It's called Jack Daniel's Tennessee Honey and it's pretty much Jack Daniel's whiskey mixed with honey. Or a 'honey liquor' as the press release states. I've never really been a big fan of honey – I mean it's not like I'm Winnie the Pooh yo and I wouldn't even know how to find it if I was looking for it in the supermarket – but I remember kinda eating sandwiches of it when I was a kid. Anyway, I think I've been missing out over the last 15 years or whatever because this stuff tastes good. Real good. Just how I remember the honey sandwiches my mommy used to make me (only without the bread obviously) but with enough of that distinctive charcoaled Jack Daniel's trademark smack in it so that you know where it's coming from. It tasted decent on its own but obviously had a pretty good kick so I would recommend having it with a glass of lemonade.

I'm kinda annoyed they only sent me one bottle in the sample as I've almost finished it (calm down, they sent it me like over a week ago and I shared some of it with my buddies) and it isn't available in supermarkets until mid-August. Apparently you can get it in some bars already but I've never seen it anywhere yet. Gotta keep looking I guess. I'm pretty sure it's gonna catch on fairly soon though so look out for it next time you go out and maybe give it a shot. If you want to know anymore information about it check out the Jack Daniel's Tennessee Honey Facebook page. Apparently there's an app you can get that lets you know the nearest bar to you that serves it but I haven't checked that out yet because I've been too busy messing around with Cleverbot – the  worst iPhone app ever. To be honest it's pretty fun drinking Jack Daniel's Tennessee Honey and just staying in talking to Cleverbot.
They're also running a pretty sweet competition you might want to enter to celebrate its launch too. Basically they're encouraging you to be a taparazzo. Taparazzo is a cool new phrase they have coined that describes the new generation of paparazzi photographers who take photos by tapping their iPhones. See what they did there? Anyway, if you get picked to be their taparazzo then you get to go to a bunch of special launch parties all over the country for Jack Daniel's Tennessee Honey and they give you £100 to spend at each event. And the events are gonna be pretty cool things like beach BBQ's, film premiers, concerts. All you need to do is send over some of your recent iPhone pictures pretty much and if they're original/creative enough then you'll be in with a chance. I guess you already need to own and iPhone or a smartphone as well though. You can check out the full details on the Jack Daniel's Tennessee Honey Facebook page. Good luck and remember: Fly Swift – Jack Daniel's encourages responsible drinking.