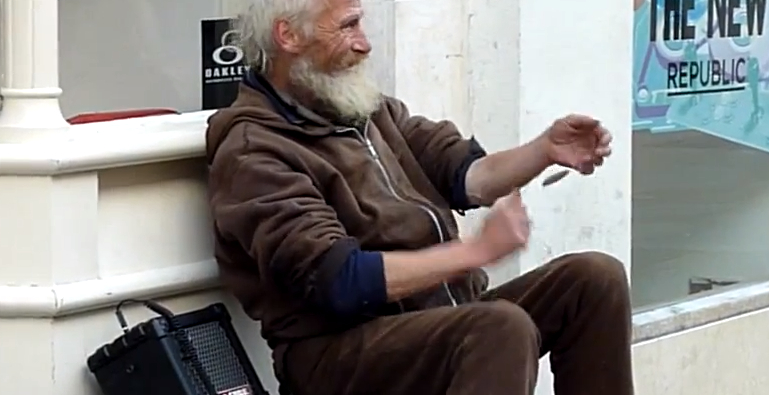 The title says it all really. Someone found a busker in Brixton with mad spooning skills – and not the rude sort – and filmed him and gave me a smile in to the bargain. If you don't like people playing the spoons or Faithless, don't despair, I think both of those things are shit too. Not sure why I clicked on the link in the first place? Glad I did though. This beardy homeless looking type is a legend. He plays a repertoire of old school tunes for the love of small change and giggles apparently. I guess it must be hard to find something original to do as a busking skit nowadays. Everyone's sick ofthe guitar, we've all heard string quartets, mimes – blah, blah, blah… how about spoons and old school? YEAH OK!!!!
☛ More: Diego Stocco Uses A Tree To Make Music
According to the camera man he did give him some cash and ask if he could film him first, good, good. As ever, some of the Youtube comments below the film are nice and entertaining, e.g. – "He looks like Paul Weller from the future" and "Filmed by a woman presumably, else the camera would be held horizontally" and "Always knew he was the real talent behind Faithless. Apparently he quit as he was head hunted by Ambrosia Devon Custard." You would never imagine pineapple and cheese to go together until you try it. This video is a bit like that.
Thankyou Youtube, the break at 0:54 is electric btw:
☛ More: Dan Deacon Is Really Weird
☛ More: Dream Music Part 2
[yframe url='http://www.youtube.com/watch?v=POvLaziUsTo']