Chances are that if you've been to California and you're interested in music, then you would have stepped foot in one of Amoeba Music's legendary record stores.
Images VIA 
The chain's three locations are famed for being absolutely massive and having some of the greatest collections of vinyl out there. Or at least they were, as it was yesterday rumoured and then later confirmed by the chain themselves that they've sold their iconic Los Angeles building and that it's probably going to be turned into luxury flats with a rooftop swimming pool. Goddamn gentrification.
The speculation began when it was discovered that an architectural illustration firm named Shimahara had posted an illustration created for Amoeba's address on their website and that this had been requested by another LA architecture firm. It's of a sweet 20 storey glass apartment block that looks absolutely sick to be fair, if it wasn't in the place of Amoeba Music that is: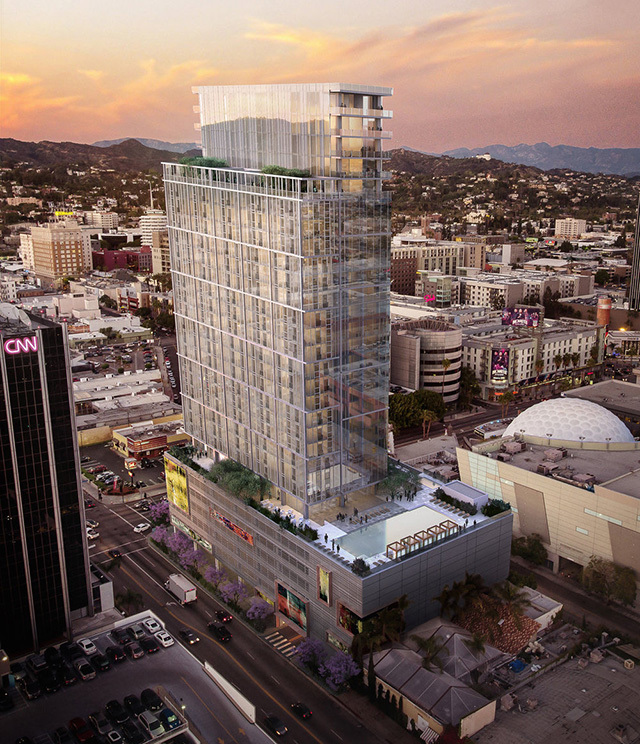 A bunch of people started reporting about it and so Amoeba decided to release a statement about what was going on:
Hmmm. I suppose that sounds OK but it doesn't really sound like they're going to remain in the building at the end of their lease does it? Especially when you find out that the building is now owned by a holding company affiliated with GPI Companies, a developer behind LA buildings Granada Hills Town Center and the Promenade at Howard Hughes Centre. Yep, not gonna happen.
It is kinda cool when you find out that the building was sold for $34 million, although I doubt Amoeba Music owned the actual building to begin with.
First Fabric, now Amoeba – we should really take a leaf out of Berlin's book with their recent treatment of Berghain to protect our cultural music hubs. Can't see that ever happening though.