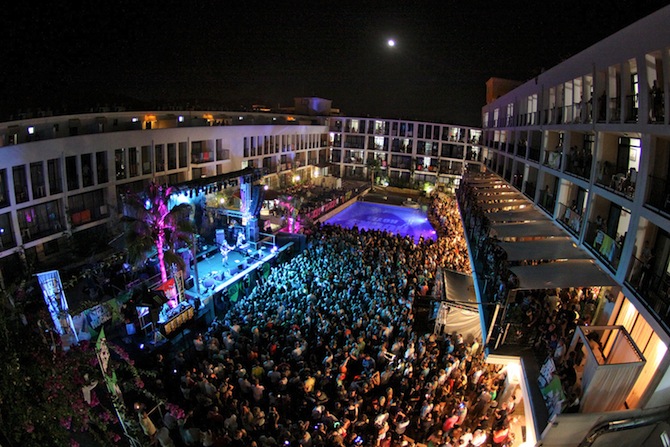 Festivals are usually associated with dirty campers and unpredictable British weather but if you want the atmosphere of a festival without the mud and rain then Ibiza is the place to go this summer! Ibiza Rocks is a summer-long music festival consisting of 17 weekly concerts held on Wednesday nights in the courtyard of the Ibiza Rocks Hotel. For this festival, the party island comes to life with live music, eclipsing the usual scene of dance DJs and club nights for which Ibiza is known. This year, the line-up includes The Vaccines (19 June), Tinie Tempah (10 July), Example (5 July), Ellie Goulding (21 August) and Franz Ferdinand (11 September) and tickets are bound to sell out quickly. Why would you spend the weekend in a water-logged tent when you could be dancing sun-kissed in Ibiza to your favourite bands?
The hotel is not just a venue for the festival but a fabulous resort where you can spend your holiday when you're not partying. There are two outdoor pools where visitors can relax and sunbathe in the daytime, as well as daily pool parties. The hotel's two bars, the Tropicana and the Lobby, will keep you refreshed during your stay, whilst the Electric Bar & Grill serves up cooked food all-day long. The Ibiza Rocks Hotel's creme de la creme is the Xbox Social Room, which is fitted with the latest consoles and games for guests to enjoy.
The hotel offers a range of accommodation to suit all requirements and budgets. Prices start from £27 per person per night, which is great value for peak season rooms in one of the world's most renowned party destinations. As well as the rooms in the hotel's main complex, there are cheaper rooms available in the Ibiza Rocks hostel accommodation for those on a shoestring budget. The hostel is only 500m walk from the main complex and is a great alternative to those who want to save money on their holiday. Ibiza Rocks apartments are a more chilled out alternative to the main hotel. Make sure you book your stay through the Jet2Holidays website to secure the best deal.
The Ibiza Rocks Hotel is a playground for the summer's hottest music festival, combining luxury holiday accommodation with the incredible atmosphere of a live music festival. Tickets aren't too pricey and the weather is guaranteed to be hot.