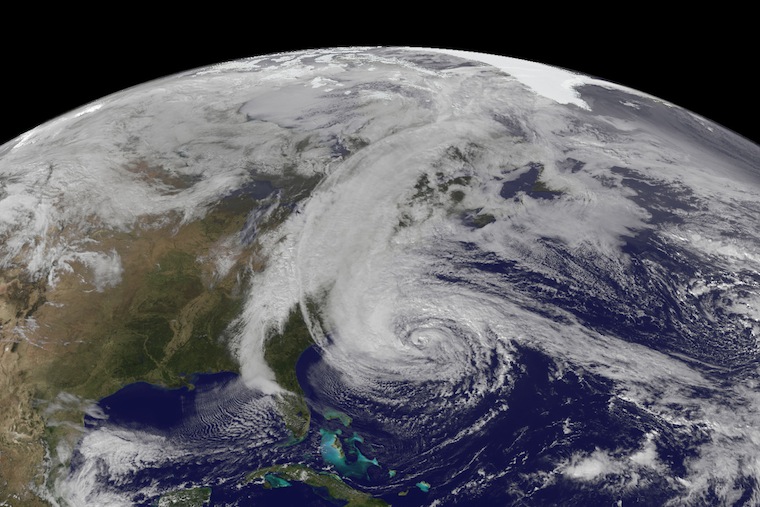 For the hour I was tossing and turning in bed this morning, feeling the anxiety of the week ahead and suffering what one can only describe as 'Monday morning clinical depression', Sky News was on in the background and all I could hear was them rabbiting on about 'Hurricane Sandy' and why it's going to cause mass destruction across the East Coast of America. But what's the big deal? What's the difference between Hurricane Sandy and any other storm to hit America? Well it turns out there are a few factors as to why this storm is going to be of epic proportions, and why people should listen up when the government is telling them to get out of their homes and into a safe designated shelter. Here's the down low:
Hurricane Sandy is only a category 1 hurricane. This surely means it's a pussy right? Well it does mean that's it's not as strong as a category 2-5 hurricane but there are additional factors within this system that will make Sandy much more devastating than your average category 1 hurricane.
Hurricane Sandy is fvcking MASSIVE. You can already see from the satellite image above that Sandy has some big balls. The storm is going to be hundreds of miles in size when it finally hits land across the East Coast of America. By this time it will have many elements to it other than just winds; these include snow, 30ft waves and heavy rain which is all set to linger for up to 24 hours.
Hurricane Sandy is being classed as a 'Hybrid Storm'. Now that sounds evil enough as it is, I don't even have to know what it means but for the sake of science here's what's going down: a hybrid storm consists of different elements and not just a single hurricane. Sandy will meet up with her buddies to combine into something truly terrifying before it reaches the populated land of New York City. As Sandy moves closer to the East Coast it will combine with a winter storm, a strong low pressure system from the west and a blast of cold air from the north. These put together will form 'The Perfect Storm' – and you know shit's getting serious when the weatherman's calling it the perfect storm.
Hurricane Sandy is arriving during a full moon which will make matters even worse. When the moon is aligned with the sun tidal forces are at their strongest, leading to risks of flooding. Things like leaves clogging up the drainage system will also add to the risk of mass flooding. There's also set to be 120 hours of rainfall before, during, and after the storm, causing massive floods and water damage all over.
Hurricane Sandy is set to hit some of the most densely populated parts of America: New York, Boston and Washington D.C., meaning that a lot of people are going to get in her way. It is estimated that over 10 million people could be affected by power outages and flooding problems when the storm hits.
To round things up, meteorologists have dubbed Sandy as 'Frankenstorm', due to it falling on Halloween, but experts have come out to say Frankenstorm doesn't quite give justice to how hard and powerful Sandy is really going to be. Time to fasten those hatches anyone over on the East Coast.
So yeah, it's going to be a pretty wild storm.
To make light of the situation someone's set up a Hurricane Sandy Twitter account too which is pretty entertaining:





Here's a live map of Hurricane Sandy's progress. Stay safe y'all.