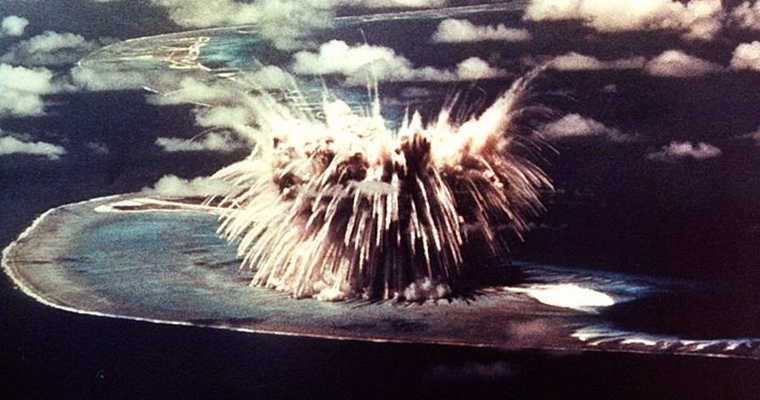 You know how sometimes you're mindlessly browsing the world wide interwab, with no particular point, no reason, just bored and trawling; Then all of a sudden you are taken down a path by a random link and become obsessed with something weird, completely out of the blue. That's what happened to me the other day. I clicked on one link about explosions and all of a sudden I was an explosions maniac. I wanted to see all of the videos about explosions that there were in the whole universe. It became my mission. Soon after that I passed out and can't really remember a great deal about most of the videos I watched, but I knew there were some good ones, so I traced back in my browsing history and pulled out some of these belters.
The video that seemed to start this unnecessary ballistics hunt was the following video. I don't know what they were blowing up a lake for? Mining for gnomes or yetis probs. Either way it is a great way to start the week. EXPLOSION TIME!
[yframe url='http://www.youtube.com/watch?v=quxhY3XBZic&list=PL5FC5412F43CEA538&index=1&feature=plpp_video']

I'd never seen a video of a volcano exploding before, if you haven't either have a look at this vid of Sakurajima in Japan. This video is from February this year, but according to the volcanology website I just looked at, it is kicking off at the moment too, this is an update from July 25th 2012 – "relatively frequent and unusually strong vulcanian eruptions, plumes up to 3-4 km altitude".
I grumble about England's less than clement climate, but at least we don't have showers of boiling hot magma blazing up our houses every 12-18 months. So enjoy watching from afar:
[yframe url='http://www.youtube.com/watch?v=WZIm6-pc3FY&list=PL5FC5412F43CEA538&index=2&feature=plpp_video']

This one is a lot darker as I'm sure there were casualties en masse… I think it's a US convoy that gets got, and it gives you a bit of an idea of how these dirty IEDs can be scary as hell. I'm not the Dalai Lama but this stuff makes me think that everyone should just chill out a bit:
[yframe url='http://www.youtube.com/watch?v=Y4uJFQZ96eI&list=PL5FC5412F43CEA538&index=3&feature=plpp_video']

And this gives you the other, more Jarhead side to the war. Hours upon hours of boredom, with hideous amounts of massive weapons, in a desert. The "WwwwwooOOoOOooooooOOOoOOoooOo!!!!" voice over is a bit annoying, but I guess I would have made a similar noise if my face had just been warmed by an explosion more than 100m away:
[yframe url='http://www.youtube.com/watch?v=Y5q5WnhjNMg&list=PL5FC5412F43CEA538&index=4&feature=plpp_video']

Up next, the Chinese blow a hole in a mountain… whether it's mining or massacre that they have in mind we'll never know:
[yframe url='http://www.youtube.com/watch?v=7klWMMQlFww&feature=autoplay&list=PL5FC5412F43CEA538&playnext=2′]

This one is another bored army type one, I'm not sure what they are exploderizing this time, but it kind of looks a bit "whatever" when it first goes off, but then that pressure wave arrives. Gave me goosebumps tbh and the quote from the Brit at the end makes my day:
[yframe url='http://www.youtube.com/watch?v=5s3-c2gpbEs&list=PL5FC5412F43CEA538&index=7&feature=plpp_video']

I've saved the best ones for last and they're all underwater bad boys:
[yframe url='http://www.youtube.com/watch?v=4KkhbbX4AcU&list=PL5FC5412F43CEA538&index=9&feature=plpp_video']

I love this next one… the bomb makes a brand new island:
[yframe url='http://www.youtube.com/watch?v=UMqgVezWJLg']

And this bastard… well… It scares the bejeezus out of me… how have the human race become so idiotically powerful? There are so many ming mongs in this world, and we have this sort of fire power… we are so doomed it's untrue. This is a nuclear bomb test off of Enewetak Atoll:
[yframe url='http://www.youtube.com/watch?v=lxCALMZ8F6c&list=PL5FC5412F43CEA538&index=10&feature=plpp_video']

I hope you enjoyed that glimpse of annihilation, I know I did.