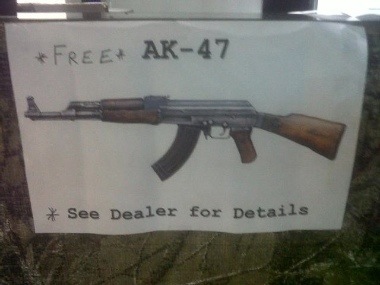 As crazy as it actually sounds, a car dealership in Sanford, Orlando, Florida is offering you a free AK47 when you buy a used truck from its stock. The guy behind the offer, Nick Ginetta, stated that he had the idea for the offer as he viewed it as the perfect celebration of Veteran's Day (The American equivalent of Remembrance Day) – 'so many people have given so much for us to have the right to bear arms'. I think he might be kind of missing the point there.
Nevertheless, sales of trucks have ballooned by over 1000% – Ginetta claims that on a regular Friday he normally has around three appointments scheduled to look at trucks but since beginning the promotion this skyrocketed to almost 50! I guess they sure love their guns in southern Florida!
Of course, they don't just give them an AK47, the customer has to go to a gun store with their voucher and fill out the necessary paperwork/background checks, which might go some way to easing your mind if, like me, you're slightly worried by the implications of this offer. What's better is that if you don't want a gun, you can just get $400 in cash instead! Apparently nobody has taken up this offer yet though. Surprising. Not really.
The offer has proved so successful that Ginetta wants to continue it until Christmas at least, even though it had only originally been scheduled to last a week. Who would have thought that offering free guns would drive up sales so much? Seems stupid it hasn't happened earlier in retrospect. Ginetta himself offered the useful comment 'my client is 100% a gunowner'. Gotta know your market, bud.
So yeah, instead of getting Goldeneye on Wii in an attempt to recreate your youth pummelling Russians with their own weapons, just head down to Nation's Trucks at 3700 S. Orlando Drive. With any luck, Orlando will hopefully be turned from the mecca of amusement parks it currently is to a post apocalyptic version of Mad Max where people drive around in used trucks firing AK47's at each other. This cause can only be helped by the new My Chemical Romance video.
httpv://www.youtube.com/watch?v=egG7fiE89IU