One of the best things about Nando's is that it's normally fairly quick and doesn't actually take that long for you to receive your food, but it seems like for one couple they couldn't wait to receive the dinner part of the date before skipping to the good stuff.
Featured Image VIA 
The horny couple couldn't contain their affection for each other at a Nando's in Edinburgh and were seen making out hard against a wall before ducking into the toilet to continue their tryst. Unfortunately for them, staff became aware of what they were up to and knocked on the door and threw them out fo the restaurant – but a used condom discovered on the floor of the toilet after their departure would imply that they managed to get what they went in there for.
Shame they weren't allowed to come back to a wing roulette and some macho peas though. Here's what Nando's customer Sarah Watson said to the Scottish Sun about it: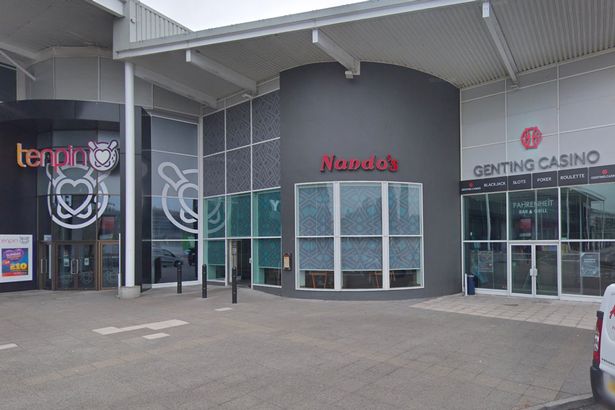 My friend Robyn and I were sitting in Nando's at Fountain Park and this couple started kissing up against the wall just outside the toilet then as we watched them they both walked into the men's toilets and we were both just shocked thinking surely that didn't just happen.

My friend Robyn then told the manager and the manager had to get a male staff member to go and check so after this there ended up a bit of commotion with all the staff finding out.

I sat there and couldn't stop laughing.

I just caught the giggles – not sure why – I think because it was like a nervous laugh at the fact this was actually happening.

My friend, me and the staff were all stood there watching the bathroom door waiting for them to come out when one of staff went in to check.

About ten minutes later they were walked out the toilet and both walked out laughing but then just walked straight out past everyone in the restaurant.

A staff member went in after them and found a used condom on the floor.
Naughty. I suppose it is kinda hot having sex in public places and that, but I'm not really sure if it's that cool to have sex in a bloody Nando's when loads of people are eating their dinner is it? Save it for some dingy bar toilets later on or under a bridge or something. Let people enjoy their chicken in peace.
For more of the same, check out this horny Argentinian couple who got caught shagging in the building lobby. Just go upstairs guys!