As the world moves on from institutionalised religion, the Christians in particular have struggled to try and convince its young members to stay and follow its teachings.
Featured Image VIA
Perhaps it's this reason that has caused the birth of this utter monstrosity: the Hipster nativity set. The founder of this invention, Casey Wright, said that the idea was dreamt up "over a few beers." Wild. He added that it's been made to appeal to the younger audience who still believe in the birth of Christ.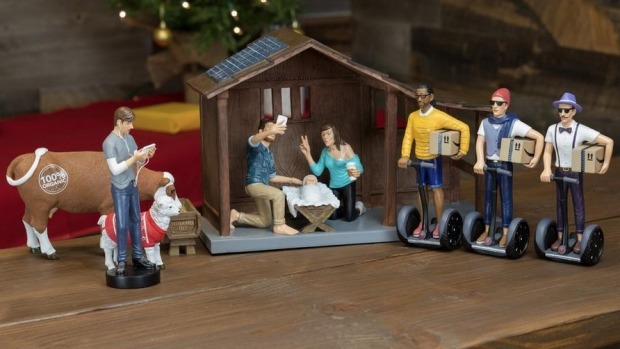 If for some reason you're interested in buying one of these things, it'll set you back £105. It includes three wise men on Segways, Joseph posing for a selfie and Mary holding a Starbucks cup. Too many stereotypes – it's almost painful. The website Modern Nativity says: 
What if Jesus was born in 2016?" an advert for the imagined nativity scene asks.

Hipster wise men riding in on Segways with Amazon Prime gifts …  Joseph with man bun taking selfies … Jesus in a handmade beanie.

100% organic cow eating gluten-free feed … sheep with a Christmas sweater.

It's crazy to think that the wise men followed a star in the sky to find Jesus, rather than using Google Maps, but who are we to judge? These wise men arrive to the birth of Jesus in style, rocking their favourite hipster outfits, and tricked out Segways.

It wouldn't be a modern day birth if at least one person wasn't putting it on Instagram, and luckily, our teenage shepherd has it covered #babyjesus #nofilter. Next to him are some well taken care of animals.
Jesus… literally. Stop trying to ruin Christmas guys – we all know the festive season is about drinking until your liver hurts, avoiding family confrontation, consumption of shit that makes us depressed and trying to avoid the insufferable boredom. Ho ho fucking ho.