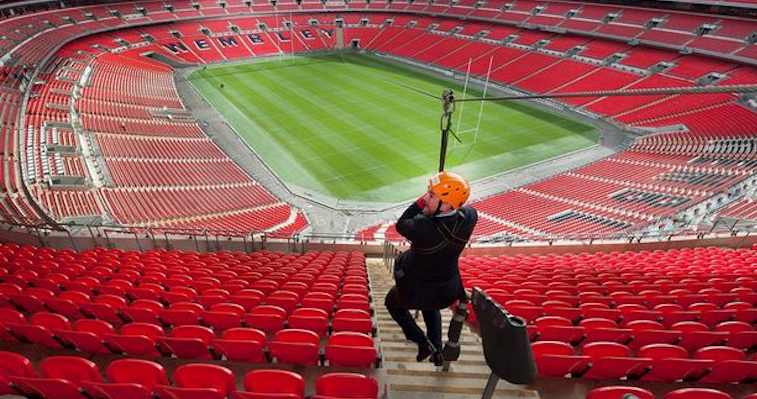 I haven't really thought about ziplines for the past decade or so  – they were consigned to my memory like Gladiators which featured them so prominently at the beginning of the Eliminator – but then Boris Johnson got stuck on one during the Olympics and now some dude is scoring goals from one at Wembley.
I'm not really sure what the point of this video is but Freestlyer Andrew Henderson – who is apparently a two time world champion at freestyling (not sure how you win a world championship for freestyling but I would assume that you had to be pretty good)  –  climbs up to one of the highest seats in Wembley then goes down a zipline to the other side of the stadium and when he passes the goal he kicks the football he has in his hands into the net. BAM, the crowd goes wild. Except there's nobody there except for the camera team making this dumb video.
Andrew Henderson said that it was actually pretty difficult to score the highest goal ever at Wembley, not only was he spinning around loads on the zipwire (which did make it look pretty difficult in fairness) but that he also had to practice kicking the ball down which he has never had to do before. It did look pretty hard but I didn't think it was going to be easy scoring a goal from a zipline – I mean if it was so easy to score goals from a zipline people would be doing it all the time, right? Anyway, like I said I don't really know why this video was made or what the point of it was but it's kind of cool so check it out below. I think it's a world record that will probably stand for a while:
[yframe url='http://www.youtube.com/watch?v=lzy3o9XoIZ0#!']
Stay tuned to Sick Chirpse for more stories involving ziplines as and when they happen.