The situation in Afghanistan has dominated the news over the weekend with the Taliban pretty much resuming control of the country after 20 years in an insurrection, following the withdrawal of overseas troops that had been stationed there and one man who is witnessing it firsthand is 21 year old Lord Miles Routledge from Birmingham.
Featured Image VIA
Apparently Routledge has the ambition of visiting the most dangerous places in the world which is why he decided to take a quick trip to Afghanistan when it all started kicking off and he's decided to document his experience over there for everyone back here. It starts off pretty gung ho but soon takes a much darker turn so be warned: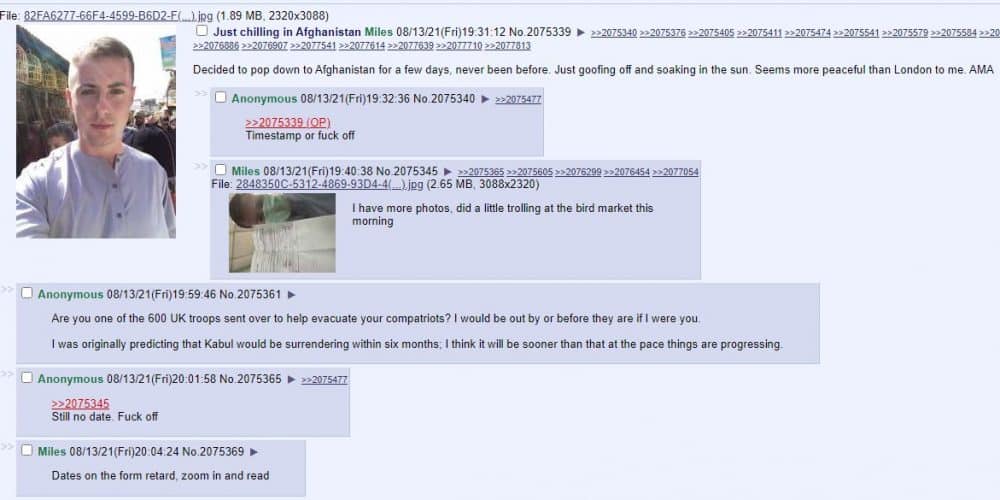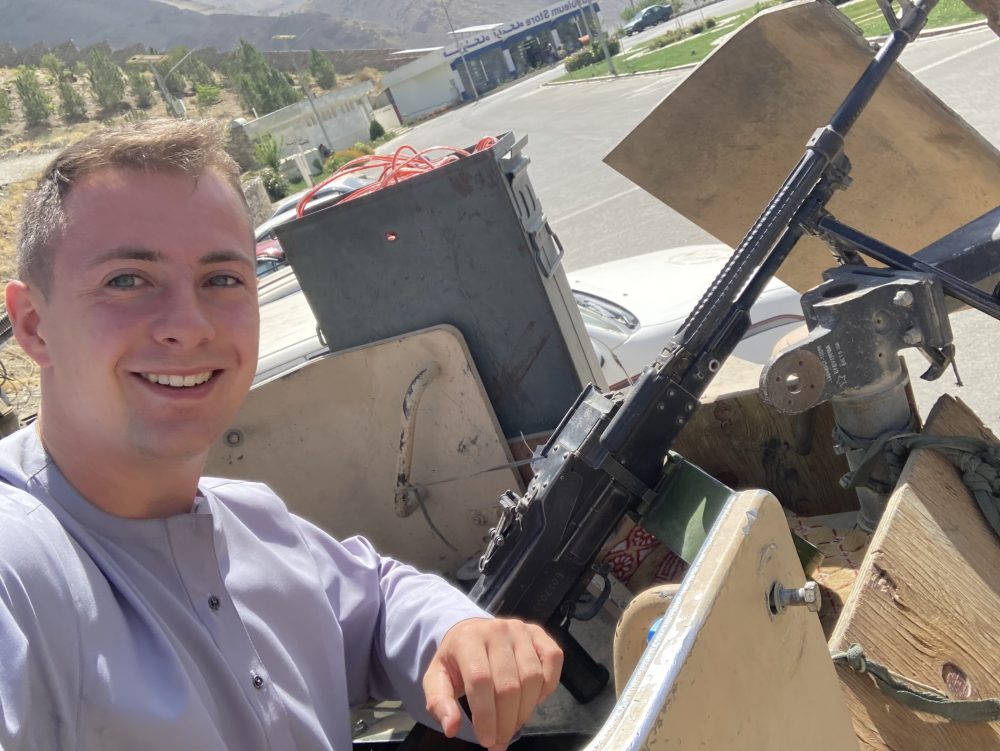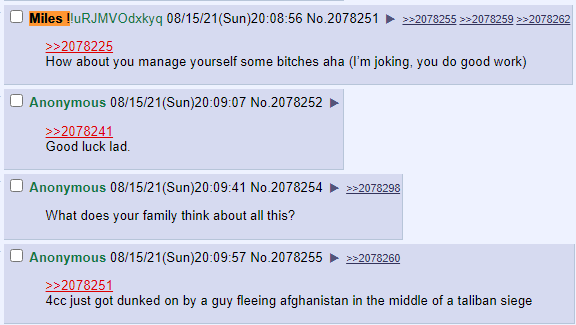 lord miles went live for a bit, said this, then the livestream cut off, he deleted the post, and then posted his twitch link https://t.co/eINsOKTijt
shit is wild pic.twitter.com/PgztrRKW1z

— Rimmy (@Rimmy_Downunder) August 15, 2021
>banepost if caught pic.twitter.com/PkZ8ymoI25

— Rimmy (@Rimmy_Downunder) August 15, 2021
stream is still going on, keeps cutting in and out and needs refreshing if it doesn't return. lord miles has some good stories, utterly mental lad

— Rimmy (@Rimmy_Downunder) August 15, 2021
As of 8:00am AFT Miles is still alive and posting his FB. Started a new 4c thread as well but harder to judge if that's actually him. Still at the safe house it seems, airport in Kabul is chaos right now. Safe house location has also been revealed, by a third party he messaged.

— Rimmy (@Rimmy_Downunder) August 16, 2021
the ride never ends pic.twitter.com/tCWUYSQkBw

— Rimmy (@Rimmy_Downunder) August 16, 2021
Wow. I guess you have to say that the guy seems a bit like an idiot for heading over to Afghanistan in the first place when the situation was as it was, but he seems to be making the most of it and doesn't seem too nervous about possibly dying so that should probably go down as win for him. Hopefully he makes it out – we're all rooting for him even if he does seem like a bit of a knob – and he'll have some great stories to tell by the sound of things. Good luck.
Should probably mention we're rooting for everyone in Afghanistan at this point as well because the situation really does look dire over there at the moment. What a colossal screw up.
For more of the same, check out the moment when a Taliban leader got vaporised taking a direct hit from a Taliban missile. Need more of that right now I guess.