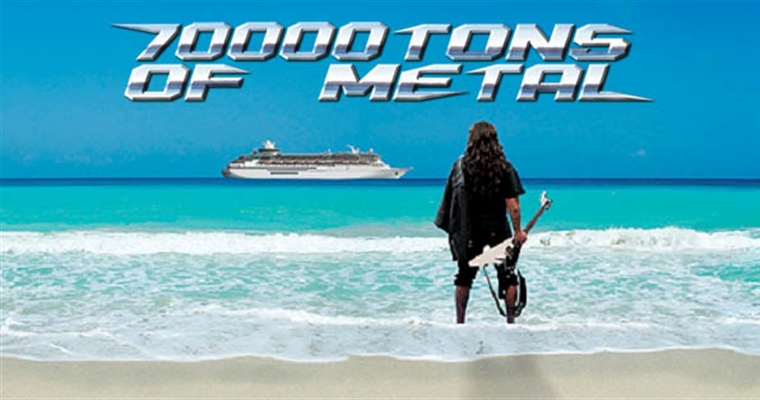 I love music, I love gigs, I hate festivals. Why? Well, they're cold and muddy (I know that's not always the case, but you have to be prepared either way because likelihood is, if you're in the UK the weather will be gash and you'll get slashed on), and most of the music is actually proper rubbish.  Also when it comes to packing down my tent at the end of the festival, my inability to "pace myself" means I am nothing more than a semi-animated corpse with pastrami for muscles. These issues are fine and dandy when you are a yoot, but as you drift through your 30's and you become more and more Meldrew by the second, these things become unacceptable. When you get out of the tent in the morning your hips and knees groan and ache, and the meager sausage sandwich you purchased cost six quid? Fvck off, I'm not paying that. Grumbly, crochety old bugger, I am. And did I mention the rain? Yeah, bloody massive globules of water falling all over your face and pillow. So what's the answer – 70,000 Tons of Metal – a heavy metal cruise ship.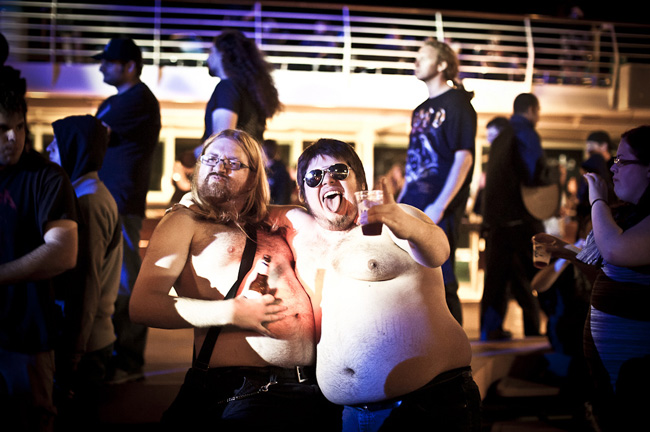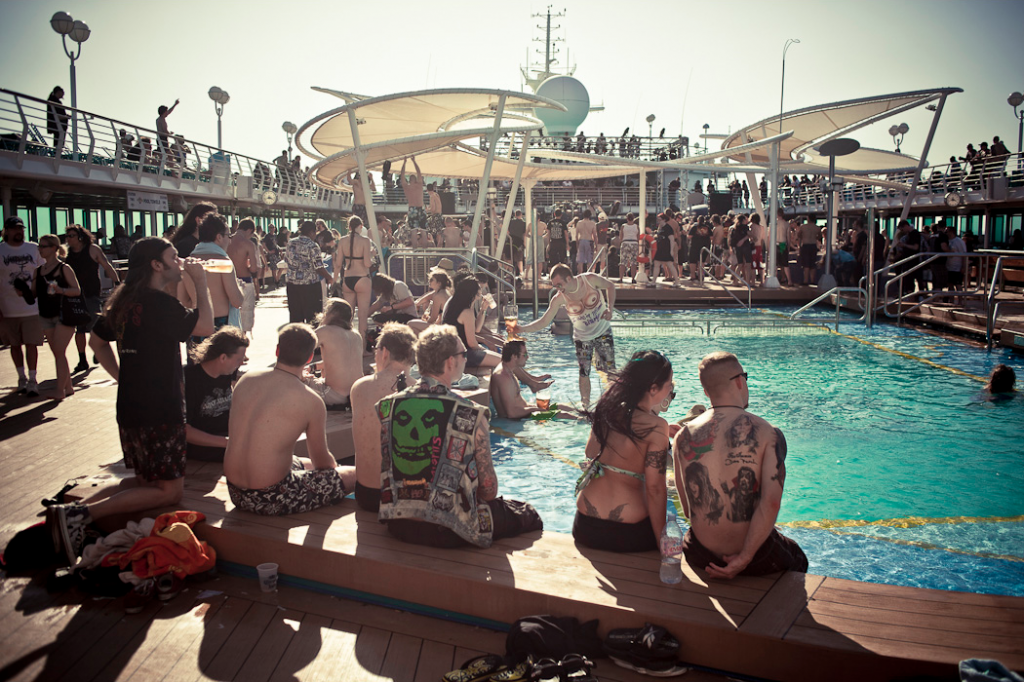 Finally the solution is here, big shout out to Benjy Holt for the heads up. This event is especially awesome if you're into metal. In fact, it's only a solution if you are into metal, otherwise it would be a living lucid nightmare of a time. In fact, I'm not sure what it would be like to be stuck on a boat with a bunch of Warhammer addicts and IT geeks?…. well, better than chavs I suppose. The bars never close, and you end up of in the Bahamas rather than some kind of chemically polluted swamp in Shropshire. Yup, it's all true. The 3rd annual 70,000 Tons Of Metal cruise is coming up at the end of January but don't you worry, there's still slots available. You can book twin, triple or quad rooms. If you're prepared to share with three other sweat encrusted metallers, the price is just, you guessed it – $666 (that's about £412 which doesn't sound so metal). So even at it's cheapest, it's a bit rich for my blood, added to that you would have to get your ass down to Miami, which is a smidgen more than a super-saver on the local bus apparently.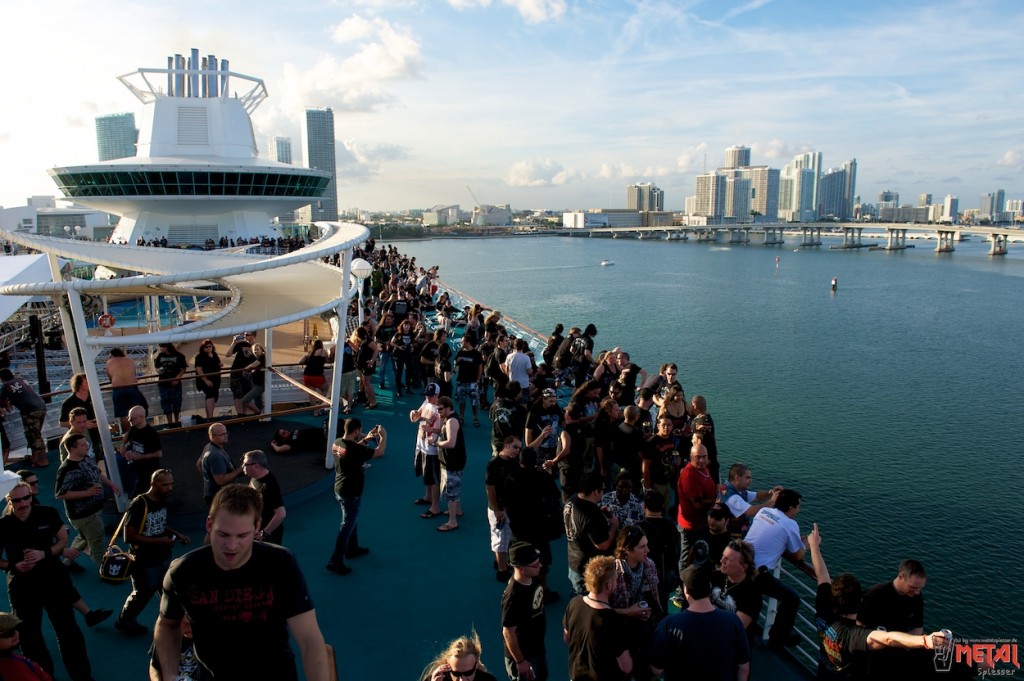 The thing is though, a lot of metallers, especially ones that I know, got in to computers when they were still in the womb, did bongs and got smashed on Jagermeister during a Computer Science BSc, got a pretty decent job straight out of Uni and are, by now, earning a fair whack for their time. Unfortunately, I was not one of those bespectacled bangers of the head. I got into drinking at University, tick,  but then slowly spiraled down the societal food chain until I hit my head on a luke warm bottle of Lambrini. I'm presently trying my darndest to clamber out of the  dust bowl of a hole I have dug for myself. That's of no interest to you I'm sure, but the point is: I won't be going on the cruise. It's a shame, I reckon, even just from a people watching perspective it would be complete maximum jokes and LOLz 24 hours a day.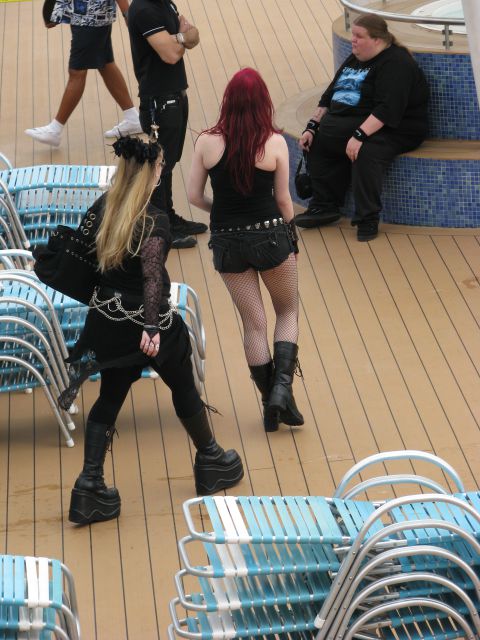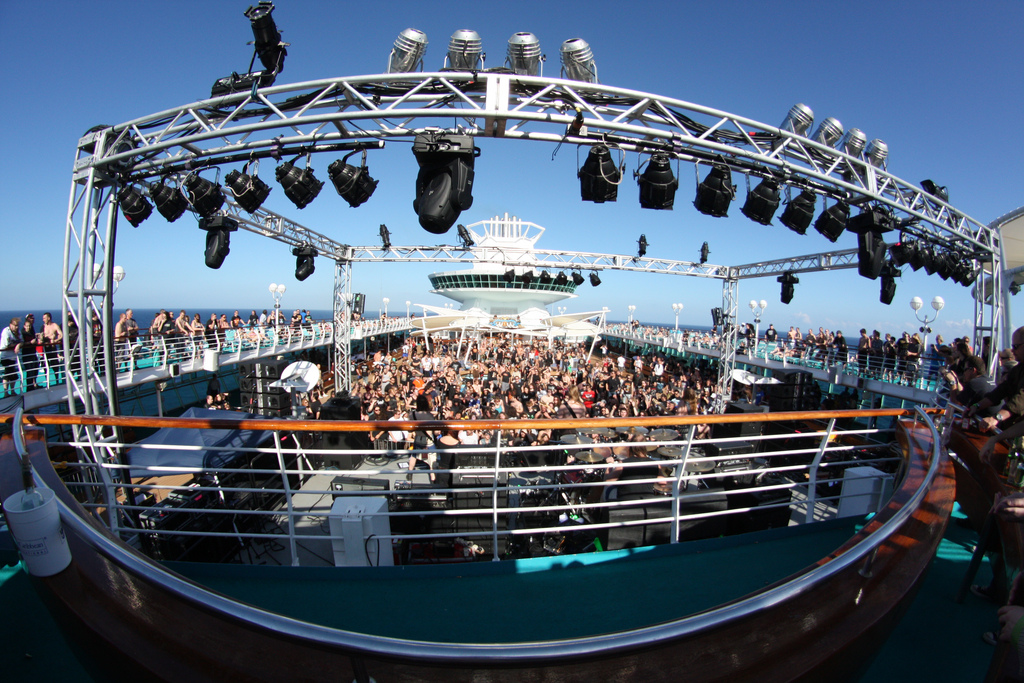 The festival boasts the largest open air stage on the open seas. I guess there can't be that many others around though to be fair. They welcome on board 2000 feisty bearded metallions from all over the globe on each trip.  70,000 Tons Of Metal doesn't stop at live bands. it also has "Open Mic Nights, Clinics, Work-Shops, our infamous Metal Karaoke, Bars that never close, two full days at Sea, a fun-and-sun-filled day on a beautiful Caribbean Island and an opportunity to mingle side-by-side with the artists". Who could ask for more? I dread to think what the clinics are about though? Some strange strain of metal based illness? I don't know…. lead poisoning? LOL! I am so hilarious. You are lucky to be reading this.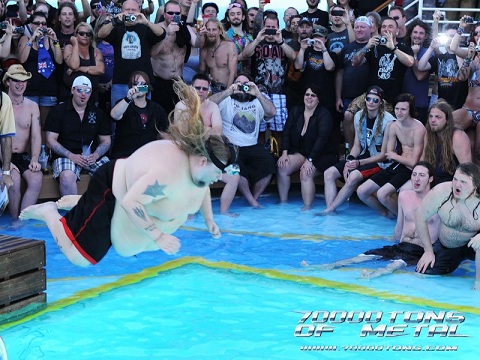 It's not up everyone's street I'm sure, I'm not sure it is fully up mine tbh. But wouldn't it be funny to drug and kidnap Coldplay and U2, and force them out to sea for the five day drinkathon. I wonder whether they would make it out alive? Don't worry if you're in the market for something a little more extreme though, there's a sister cruise called Barge To Hell which caters for fans of the more extreme kind. In the Year Of Our Lord 2013, the line up will include big boys like Mayhem, At The Gates, Napalm Death (yup they're still thrashing away) and Brugeria.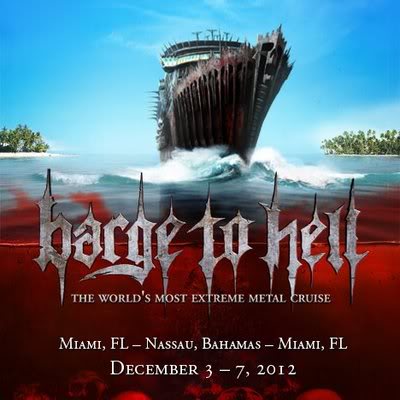 I guess if you were a band you would be a proper idiot to turn down a gig on a cruise ship. They can probably book whoever they like, I bet every band they asked to play said "errrr…. yes please, immediately". You would just load your shit in, then chill out for a few days. I Have a new item added to my bucket list.
[yframe url='http://www.youtube.com/watch?v=vvNTuouu65A']