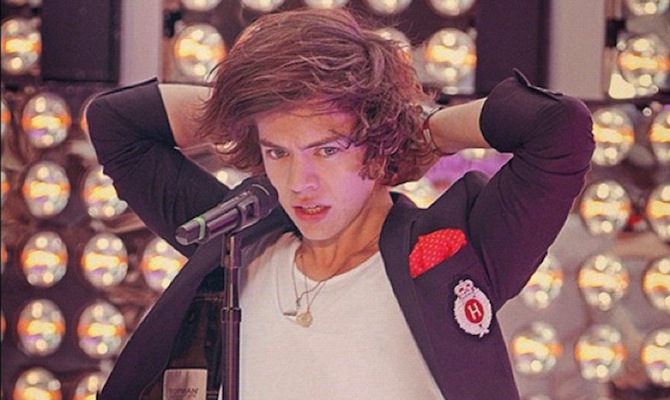 Harry Styles, the One Directioner with no style (check out his shit tattoos here) has become the latest boy band sensation to hit the headlines, but not for speculation over his gay relationship with a Radio 1 presenter, this time Harry's in the news because he received a swift low blow to his pre-pubesent testicles during a Q&A session his band were doing up in Glasgow.
As the band were on stage answering questions via Twitter in front of their Glaswegian audience, a shoe was thrown at Harry but just missed hitting him. Harry picked up the shoe and proclaimed to the audience 'it's a shoe'. Well done dick head. A few moments later what one can only presume was the shoe from the other foot was thrown in Harry's direction, this time making a perfect connection with his hairless balls. Harry was then seen to cower in pain and drop the floor  while one of his band mates burst into tears and shouted 'Man down, MAN DOWN!'.
To be honest we're a bit baffled as to why Harry dropped to the floor like he was experiencing the pain of being hit in the balls that can only be compared to the pain of a hundred deaths, because everyone knows that Harry's sporting a massive vagina under his garments rather than anything that even resembles a cock and two balls.