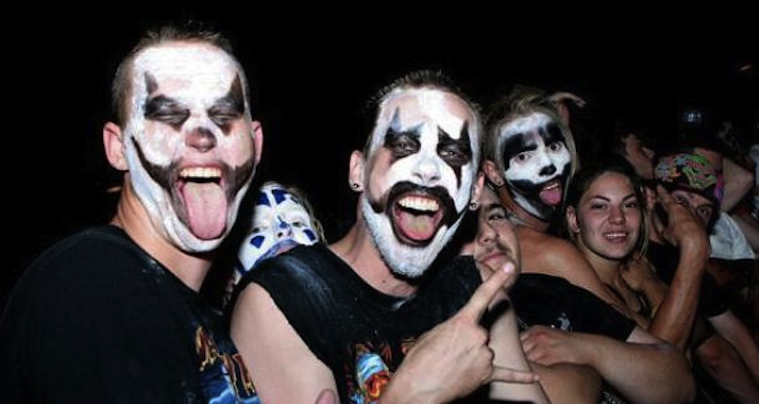 So it turns out that February 17th is the official Juggalo Day. Firstly, if you don't know what a Juggalo is then you need to stop reading this right now and go check out the documentary American Juggalo that we featured back in October or something. It's a real hoot. WOOT WOOT!
Ok, so now I assume you know what a Juggalo is, but you might be confused as to why they have their own day every year to celebrate being Juggalos. If you watched that documentary too you would probably be wondering why they don't coincide Juggalo Day with the gathering of the Juggalos as well, I mean that would make sense right? That's where you're wrong though homie, one of the whole points of a Juggalo is that it doesn't MAKE any sense! Ninja!
I'm not sure how you're supposed to celebrate Juggalo Day, but the official Insane Clown Posse says: 'This is the day to celebrate being a Juggalo or Juggalette and all the fuckin' fresh flavor that comes along with that! We want Ninjas WORLDWIDE to celebrate Juggalo Day their way!' So I guess that means you can do whatever you want – providing it includes that fuckin' fresh flavor. What the hell is fuckin' fresh flavor?
If you're in Detroit – any Sick Chirpsers in Detroit? Holla – the Insane Clown Posse are throwing a party themselves for Juggalo Day. Here are the details. It sounds wild. I mean weird:
'In honor of Juggalo Day the Insane Clown Posse will be throwing the JUGGALO DAY FOWLING PARTY! You'll be able to celebrate with the Insane Clown Posse, Blaze Ya Dead Homie, Mike E. Clark, AMB, The Psychopathic Assassin Cold 187 AKA Big Hutch, Sugar Slam, DJ Clay spinnin' on the wheels of steel, the stars of JCW will be giving a full blown wrestling show, and there will be MANY MORE SURPRISES!
Now, you may be asking yourself… what the FUCK is fowling!? Well, it's this fresh new sport that is sweeping the nation and it is steadily becoming the favorite pastime of the artists at Psychopathic Records! Fowling is a combination of football and bowling!
Now that you are fully in the know about Fowling, you need to be at the Juggalo Day Fowling Party! You ain't never seen anything like fowling and it's the perfect way to celebrate Juggalo Day with the family! You can bring your own food, pop, etc.! It's the biggest Juggalo Day Party in Detroit and EVERYONE is invited! The best part? There's no fuckin' cover fee! This bitch is FREE to get into! Here's the breakdown:
ICP's Juggalo Day Fowling Party
Friday, February 17th
The Fowling Warehouse
17501 Van Dyke ST.
Detroit, MI 48234
ALL AGES EVENT
DOORS: 10PM
ADMISSION IS FREE!!'
I know where I would be heading if I lived in Detroit (If anyone is going down email us at info@sickchirpse.com and let us know how it was!). Unfortunately I live in LDN – I tried to google some kind of Juggalo Day event in LDN but I got creeped out by all these Juggalo websites after visiting about three like TrueJuggalo.com and Juggalofamily.com and decided to just celebrate Juggalo Day my own way. It's what the Insane Clown Posse would have wanted right!? So I'll be celebrating Juggalo Day by going to see the new Ghost Rider movie and then going to the House of Wings for some chicken wings. All about that FUCKIN' FRESH FLAVOR NINJA!