In the running for who can be the most self important moron in the world, the only person giving Grimes a run for her money is Gwyneth Paltrow with her Goop range of products and she's undone herself yet again with the introduction of a candle that smells like her orgasm. This follows on from her previous best seller, a candle that smells like a penis and another that smells like a vagina.
Images VIA
Gwyneth is alleging that the candle has bottled up her orgasm – here's the official product description: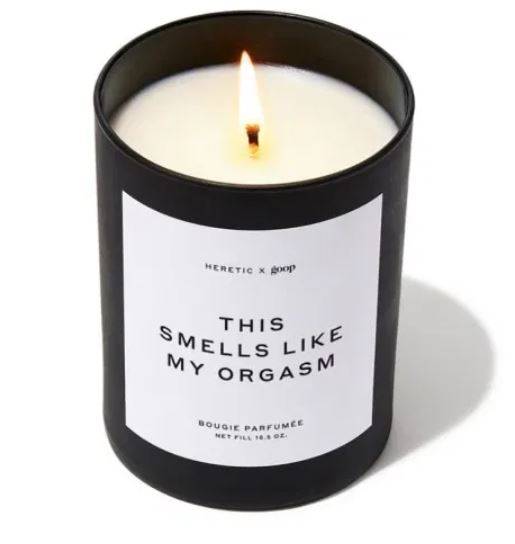 A fitting follow-up to that candle – you know the one – this blend is made with tart grapefruit, neroli, and ripe cassis berries blended with gunpowder tea and Turkish rose absolutes for a scent that's sexy, surprising and wildly addictive.
I mean I don't even know what that sounds like but it already seems like Gwyneth Paltrow has much nicer smelling orgasms than any I have ever had or been in the vicinity of. Normally they just smell of stale sweat and moist gross goop (for lack of a better word) but that doesn't mean they aren't excellent.
Think I would find it weird if I or the person I was hooking up with came and all these scents that I had never experienced just exploded out of nowhere. Thankfully I doubt I'll ever hook up with Gwyneth Paltrow though.
Anyway, the candles are on sale now for $75 and are probably going to sell out before you know it, so if you're after one you better be quick. For more of the same, here's Gwyneth talking about how much she loves anal. Bet Chris Martin was all about that.