Flying on budget airlines like Ryanair and Easyjet is great as it's so cheap, but it also completely blows if you're going somewhere for more than a few days because it means you have to pay their extortionate extra baggage fees which don't even make it that cheap to fly in the first place. It's a con basically.
I'm sure everyone reading this has often thought to dress in a couple of extra layers when they're on the flight in order to have more clothes when they're away without paying the fees, but this 19 year old dude called James McElvar – from some Scottish boy band called Rewind nonetheless – took this to the extreme by putting on 12 layers of clothing on a recent flight from Stanstead to Glasgow.
Rewind (yeah, absolutely no idea but there's a picture of them below and they look like the biggest dorks ever) had been in London for some reason and were flying back home when the airport attendants told James that he had too much baggage. This meant he could pay the £45 price to put his bag in the hold, throw away all his clothes or put them all on. Obviously he put them all on: six t-shirts, four jumpers, three pairs of jeans, two pairs of jogging bottoms, two jackets and two hats:
I felt it was my only option to put on everything.

It was impossible to walk, I could barely get on the plane. I wanted to take them all off as soon as I got to my seat – beside which was a spare seat that I could have sat one of my bags on – but was told I had to wait until we were up in the air.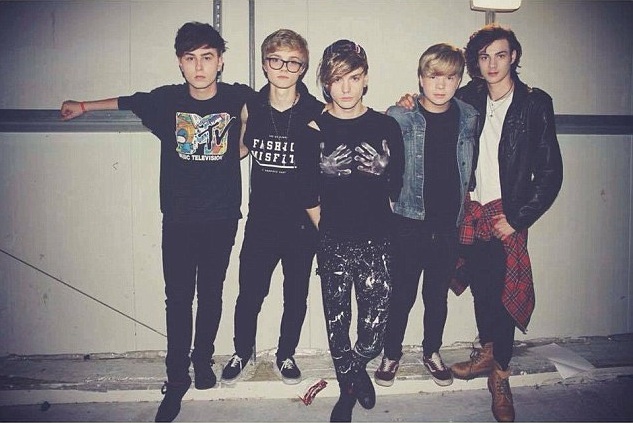 Images VIA
Unfortunately that was way too long for James, as his body temperature began to soar and he started feeling faint and sick. Flight attendants moved him to an empty row at the back of the plane and he was given a transparent plastic bag in case he puked up – there weren't any sick bags on board.
James didn't manage to puke up in the bag though and instead puked up all over the back row for some reason. He was then moved to a seat in the middle of the plane where he promptly passed out and fell into the aisle.
Easyjet staff didn't have any medical training but fortunately an off duty paramedic was on board who looked after him for the remainder of the journey. James was placed in an ambulance when he arrived in Glasgow. Phew. Since then James has made a full recovery.
He probably wishes he had just paid that £45 now and the question has to be asked as to how he couldn't afford this when he's clearly in a massive (?) boy band like Rewind – don't they have expenses or P.D.s? And why the hell did he have so many clothes when nobody else in his band had anywhere near as much?
What a mystery – James should really take a lesson from Kate Moss on the correct way a superstar should act on an EasyJet flight.
If you want to know what Rewind actually sound like, here's a video of them covering the Friends theme tune. Really.
https://www.youtube.com/watch?v=tS7VwBSxlIY