There are a lot of terrible, terrible tattoos out there that people have decided to get inked on themselves for some reason – take a look at this selection for proof – but I'm not sure if anyone has ever been dumped before for getting a tattoo that actually looks fairly decent, it's just the idea behind it that is absolutely and utterly awful.
Liam Scott decided to get the name of this favourite musician Skepta tattooed on his pelvis whilst on a lad's holiday in Magaluf (obviously). He even filmed the tattoo being inked on him in order to prove to everyone what an absolute legend he was and that it wasn't a fake. Unfortunately after posting it on his Twitter account though Skepta didn't bother to reply to it. Wounded.
Images VIA 
https://twitter.com/liamscott1997/status/623052116416987140
Someone who did reply to his excellent news though was his girlfriend Lauren, who wasn't happy about it at all. In fact, she was so annoyed about it that she straight up dumped Liam there and then over text whilst he was still on holiday in Magaluf. You can see this exchange below. There really is quite a dramatic change in her demeanour once she finds out about the Skepta tattoo isn't there?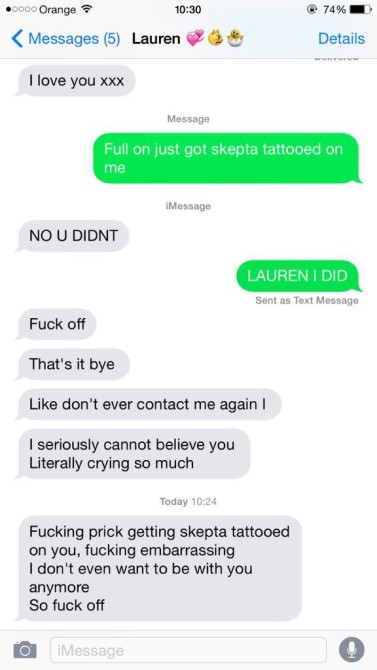 I don't really know how long they had been together or anything but I doubt Liam was too annoyed about that development – I mean he was on a lad's holiday in Magaluf and just got Skepta inked on him, he probably had girls all over him all night – and it doesn't look like they're getting back together any time soon.
Hopefully his next girlfriend will be a bit more understanding about his choice of tattoos. Hell, maybe by the time he's got one he'll have a Wiley tattoo on his butt cheek to go with it. Let's round it off with a picture of the tat in all it's glory: