It's crazy how you kind of get taught that girls don't fart at an early age and pretty much every one of them plays up to that myth until you end up dating one of them – and even then it often takes a hell of a long time for them to finally admit it and drop a stinker in front of them.
Images VIA
In fact, it took three years for 21 year old Kaylie Warren to fart in front of her boyfriend 24 year old Ryan McErlean and it was such a momentous occasion that Ryan decided to buy her a cake to commemorate it. Here's what Ryan had to say about it: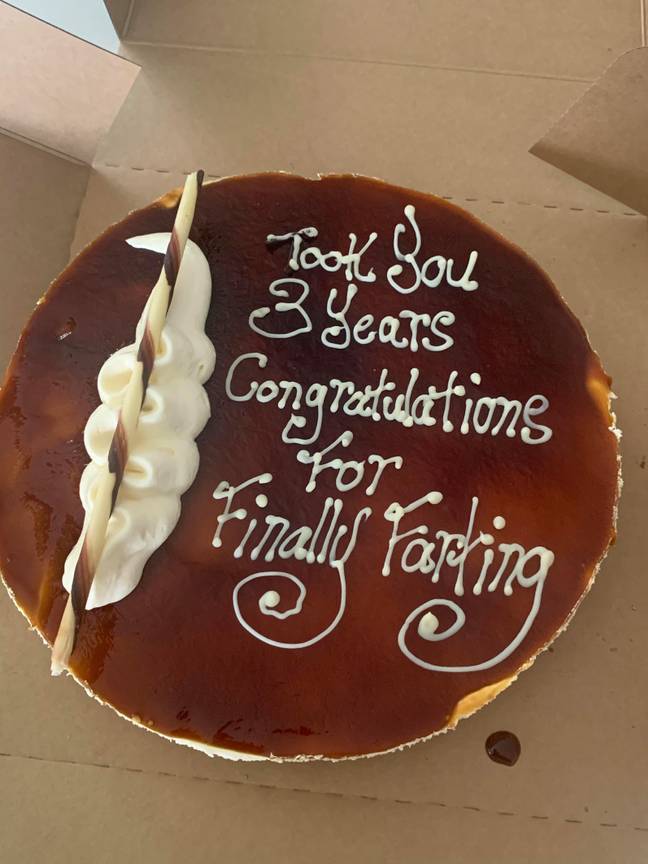 With me, it was like three hours, or maybe a matter of days.

But Kaylie is more polite when it comes to that sort of thing, so maybe a month or two into our relationship when I hadn't heard one yet I said it to assure her it was alright to do – it was to break the ice.

Three years of extreme reluctance and denial later, she finally slipped up.

I spent $40 AUD on the cake and Kaylie started laughing when she saw it, she thought it was incredible.

It's something everything can relate to as a couple – everyone has a weird milestone they cherish or fulfil, it's a little bond they have that makes it special.

When I bought the cake the guy in the shop was surprisingly chilled about it, said he'd had weirder requests.

But I wrote it down instead of saying it because there were other people in the shop and I was afraid of strange looks.

I was really surprised it went that viral – when I saw that it had gone berserk, it was insane.

People were bragging about how quickly they farted in front of people, it's good to get your mind off the situation we're in I guess – if a fart cake does that then I've done my job.
I mean yeah it is pretty cool I guess, although I'm not sure if Kaylie will be too happy that she'll probably be remembered/recognised for the rest of her life as the girl who received the fart cake. Everyone does it though so there's no reason to be embarrassed about it. Maybe this will help fight the stigma.
For more of the same, check out