Pretty much everyone in the country has got a soft spot for Greggs, but have you ever thought of giving anyone a Greggs themed Christmas present?
Images VIA
The answer is probably not, but the good news is that you will have the option this year thanks to the bakers themselves and all profits will go to the Greggs foundation that helps fund community based charities all over the country. There are a variety of options too, so there will definitely be something for everyone that likes Greggs.
Here they all are: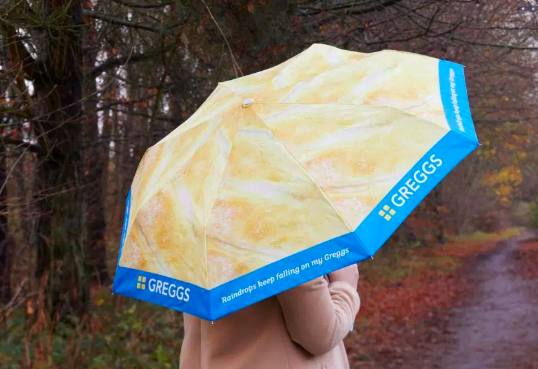 Socks with either a sausage roll or doughnut print for £4.00 per pair.

A reusable cup for £3.

A set of five Greggs pin badges for £6.50.

A packet of eight Greggs cards for £4.00.

A Greggs umbrella for £10.00.

A Greggs' phone cover for £10.00.

A Greggs' Christmas jumper for £18.00 with the slogan 'deck the halls with sausage rolls'. Nicely.

A Greggs gift card that can be topped up with a minimum fund of £50.
That's a pretty tasty selection of gifts there isn't it? Not gonna lie but would really love one of those Greggs gift cards and even a phone cover might look kinda cool, although it's probably a bit too stupid even for me. Maybe the badges would look kinda funny on your backpack as well I guess. Whatever happens though nobody is going to be unhappy with them and you're at least going to get a cheap lol about them.
Of course, as with all dumb merch items like this, they're only available in a limited edition format from a few different stores all over the country, so you'll have to make it to one of London's Stratford Shopping Centre, Birmingham High Street, Manchester's Parker Street, Newcastle's Grainger Street and Glasgow's Buchanan Galleries Shopping Centre if you wanna pick them up. Undoubtedly worth the trip though, right?
For more of the same, check out the new Greggs Festive Menu. Never ceases to amaze.