2020 is here and it looks as if it's going to start in much the same way as 2019 with Greggs rolling out a new vegan option to their menu that's almost certainly going to trigger people in the same way as their vegan sausage roll last year.
Featured Image VIA
The new menu item will cost £1.55 and replicates their famous steak bake with 96 layers of thin puff pastry – that is crucially made without using eggs – which contains pieces of Quorn, diced onions and meat free gravy. Mmmmmmmm.
Greggs chief executive Roger Whiteside said the following about the launch: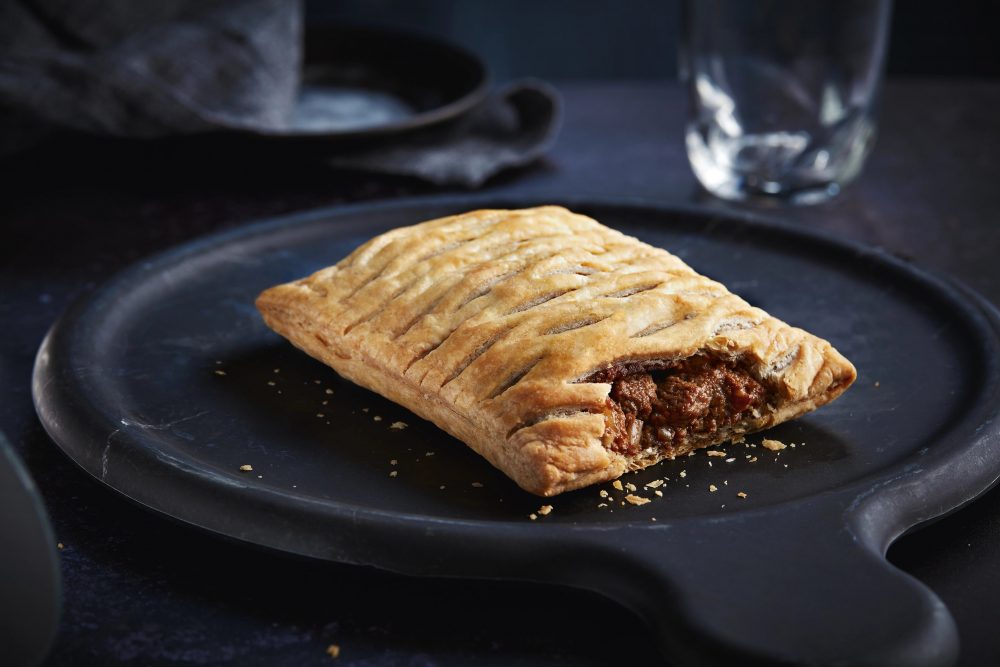 Our vegan sausage roll launch was a huge success and we've been working tirelessly to expand our vegan-friendly offering and provide more delicious savoury food on-the-go options for people looking to reduce their meat intake.
Sounds pretty great for most people, whether they're vegan or not. I can safely say that I'm not vegan but I always get the vegan sausage roll when I go to Greggs now because it's just way nicer than the regular one and way less greasy too. I'll probably do the same with the steak bake as well.
Obviously though there are a bunch of people out there that are really upset about he fact that Greggs is now offering a vegan version of their famous steak bake. Here's a few of the best reactions from Twitter:
How can it be #vegan if it's #steak ? #greggs

— davebayliss (@davebayliss13) January 2, 2020
It aint vegan if it has steak and if it doesnt have steak it aint a steak bake, the clue is in the name, what #Greggs have is a Vegan Bake

— desirableART (@CHACHIECOCO) January 2, 2020
So this chain has bowed to the de rigeur trend of turning everything on its arris by now offering vegan steak bakes.
I tried one and budgie and cage sprang to mind.
I'd have called it Fake Bake. #Greggs pic.twitter.com/v4897MMTNJ

— Andrean Datura (@DaturaAndrean) January 2, 2020
Fucking #Greggs vegan STEAK bake. How can you even call it a STEAK bake #shithouse #vegan #steak #bake #vegansteakbake pic.twitter.com/XwWJrLkSSI

— Len (@LittleLen34) January 2, 2020
I'm very calm thanks…do realise that to be able to discover the taste of an actual steak beak researchers would most likely have had to sample the taste of an actual steak bake to replicate it for your pallet. So in other words a cow died so you can enjoy your pasty. #micdrop

— Phil Walker 👅 (@Philwalkercomic) January 2, 2020
Why are all vegans fat birds who need a bath and underweight guys who need a shave? #Greggs #Veganuary

— Karl Downey 🏴󠁧󠁢󠁥󠁮󠁧󠁿 (@Karl_Downey) January 2, 2020
This should not be called a #steakbake if its #Vegan as a meat eater I find this offensive. #vegansteakbake #Greggs #stupid

— Claire★Louise★Morgan (@ULoveTooHateMe) January 2, 2020
Is it just me? How can a 'vegan steak slice' claim to be any such a thing when there's no hint of meat in it? It's like meat free chicken or a vegan sausage roll. Such things do not exist, surely? How does this get pass the authorities? #Greggs

— Giles Sheldrick (@ExpressGilo) January 2, 2020
Lol. Don't really get why people are getting so upset about the fact that vegan options are becoming more popular – there's still the original meat option available so it's not really affecting them at all? – but it doesn't seem like it's going to be something that is resolved any time soon because boomers just love to complain hey? See you next year for the launch of the vegan sausage cheese and bean melt which I'm sure will witness a similar reaction.
For more of the same, check