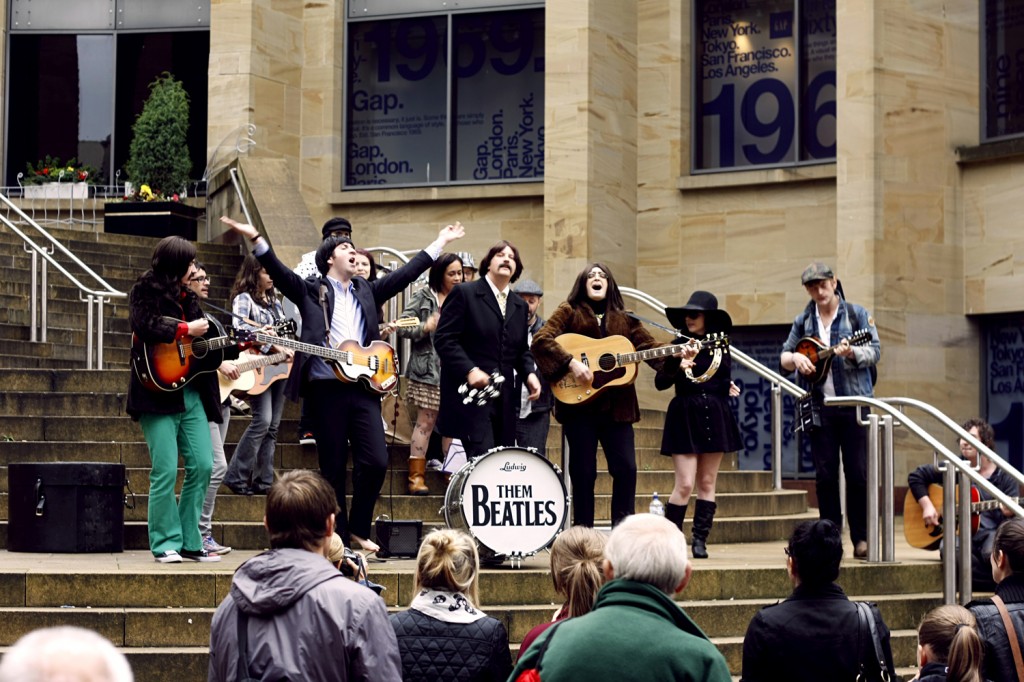 In the past week the world has watched as riots spread like a plague across England. A lot of things were blamed for the rise of the "disadvantaged youth". We blamed the police brutality and gang culture. The Tories and unemployment. Student fees and public funding cuts as well as social exclusion, no matter the reasons we know a couple of things for sure; a lot of Londoners have a lot of new stuff and the UK isn't looking too good to the rest of the world at this moment.
However, you can rest easy knowing that we're not all bad. We decided to be slightly more civilised up here in Scotland. Not only did we ignore all the supposed attempts at starting a riot through social media, a few people decided we should have a little demonstration of our own. And so Make Music Not Riots was born.
The call went out across Facebook, all of those with an instrument or the ability to make some noise was to take to the streets and march on up to the Royal Concert Hall steps in Glasgow. The assembled masses would then don their weapons of musical destruction and belt out a rousing rendition of John Lennon's Give Peace a Chance.
To be fair, masses did not assemble guitars in hand, hitting tambourines and play; but we did get ten people including UK Beatles tribute band, Them Beatles, on the steps entertaining a growing crowd of 150+. There was a good atmosphere even with a little bit of Scottish rain, everyone in the crowd seemed to enjoy it and had a little sing along.
It seems possible that Make Music Not Riots won't just be a one time thing, comments on their Facebook page promise more to come in the future. The whole affair does scream publicity stunt for Them Beatles, but I can't get myself too pissed off about it. They took to the streets and helped everyone have a good time on a rainy Friday in Glasgow. And they did it while opposing the London riots which were the talking point of the world this past week.
So this was Glasgow's pledge to keep our city free from the riots that hit down south. The rest of the country should follow our example and give peace a chance.