A teenage girl who vomited nearly every time she ate is finally able to enjoy food again after having a melon-sized hairball removed from her stomach.
Images VIA 
16-year-old Aakansha Kumari had secretly been eating her own hair for years, but when her parents noticed their daughter's weight plummeting, they knew something was up.
After taking Kumari to the Doon Medical College and Hospital in India, the doctors x-rayed her abdomen to find a mass taking up 80% of her stomach. Grim.
She was immediately taken to surgery where the doctors had the arduous task of removing this absolute beast of a hairball: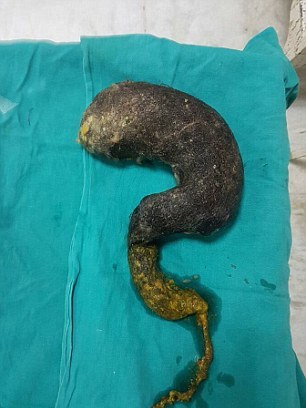 Just look at the size of that thing! Dr Abhay Kumar, a gastro surgeon at the hospital, said:
The surgery was challenging because we had to extract the hairball in one go.

We couldn't do it piece by piece and risk dropping strands of hair in the body cavity as it would lead to further complications.

The girl is doing much better after surgery.
Kumari is said to be looking much healthier and happier now – hopefully she's switched eating hair for eating food instead. You don't want another one of those beasts showing up in your stomach.
To read about the guy who had a 28 pound poo removed from his stomach, click HERE.