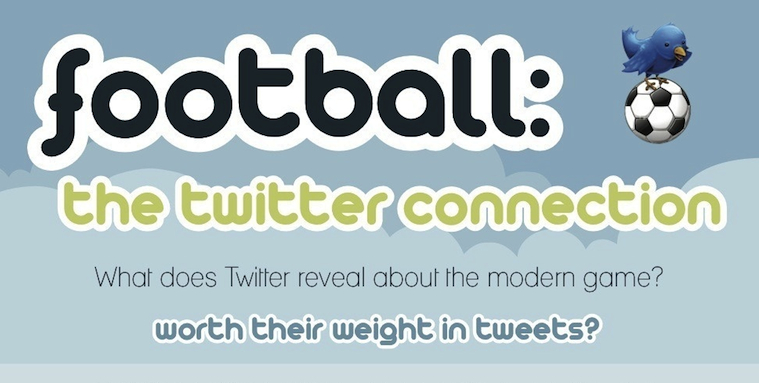 I nabbed this off 101 Great Goals like I nab most of my football related content, but it was created by the guys over at Unibet and it's a really cool infographic that pretty much tells you everything you need to know about footballers and twitter, although only the big ones. It would be way too hard to create an infographic showing every single footballer who's on twitter because it seems like pretty much all of them are. I mean I'm a Birmingham City fan and about 70% of the squad are involved and that even includes the over 30 crowd like Peter Lovenkrands and Wade Elliot, and I'm sure that's the standard for most other clubs too so fitting all of the idiot footballers in the world – like Ravel Morrison for example – would probably prove to be pretty difficult.
So they've just stuck to the big guns on this infographic but it's still pretty jokes to check it out as there's A LOT of info in there and it's real fun to actually know all this stuff now. I particularly liked the section where it showed how a player's value on the transfer market related to how many followers on twitter the player had, but the section where it tells you which players have been fined the most for indiscretions on twitter is also pretty awesome. Of course Joey Barton was number one on that list for criticising the chairman via twitter when he was at Newcastle United.
☛ Check This Out: 50 Shades Of Andy Gray Twitter Account 
The best section is undoubtedly where it tells you which footballers follow which other footballers though because it's basically a hoot. I mean can you believe that Rio Ferdinand is following Rooney and Ronaldo (who presumably he is both friends with as he played/plays with both of them at Manchester United) but neither of them are following him!? And he's probably one of the footballers that actually tweets the most about real life stuff. Guess he isn't a popular guy in the United dressing room. Why the hell doesn't Fabregas follow Van Persie? Did they fall out or something? Anyway yeah, you can have a lot of fun with that section and come up with a lot of dumb theoretical questions like that if you have enough time to figure out the graph (it's kinda difficult to understand but probably not if you actually bother looking at it and can actually read a graph and aren't a retard like me).
I would write more about it but I kinda feel like I'm back in high school and have to discuss the results of some lame chemistry experiment where you figure out the boiling points of different elements or something and it's kinda putting me off, so just take a look at the graph below and let us know what the dumbest/funniest fact you can find on it is.
☛ Read Next: Ryan Babel Is Going To Twitter Jail 


☛ Read Next: Luiz Adriano's Twitter Account – Is He As Big A Twat As We First Thought?