After last Wednesday's betting exploits we hope that you guys are also counting your £250 winnings like we are at the Sick Chirpse office. Make sure you click one of the banners below or this link to claim your free £30 bet on tonight's games.
We had some luck with the handicap four fold and the goalscorer treble last week and although we are replacing the Champions League with the Barclays Premier League we're hoping that you enjoy the value just as much.
Boy do we have a big fat chancer of a bet for you guys today. How would you fancy popping a tenner down for the chance of winning just shy of 2 grand? Sounds lovely doesn't it? This is the mega stupid life changer bet of the night:
£10 bet will leave you with a cool calm £1800 sat in your bank account at odds of 179/1.
Click here to claim your free £30 bet from Ladbrokes.

Ok, all the smart asses out there will start off by saying "it's 179/1 for a reason Sick Chirpse, you douchebags" – and yes you maybe right. However, there is method in the madness…
Villa to beat Southampton
Sunderland to beat Chelsea
West Brom to beat Man City
Click here to claim your free £30 bet from Ladbrokes.
Let's start with the Saints at home to Aston Villa. After losing 2-0 to Arsenal and by 3 goals to 1 at the hands of Chelsea the Saints will be starting this game on the back foot to say the least. With their first choice keeper Artur Boruc out injured as well as Schneiderlin, Gaston Ramirez, Danny Fox and Guly Do Prado, Southampton aren't going to be firing on all cylinders.
Sunderland at home to Chelsea. Again, not a banker, but Chelsea haven't looked their best in the last few weeks and they are beatable. They travel to a Sunderland side who have won all 3 of Gus Poyet's home games in charge and will need to make it 4 after Palace won yesterday to leap frog them into 19th. The last time the Londoners travelled to the North East was when they lost 2-0 to a Newcastle team who couldn't buy a win.
Finally, West Brom at home to Manchester City. Man City are unstoppable at home but more than beatable away from the Etihad. Although Kompany has returned to the squad after injury he still will not start – West Brom have a pretty much full strength team but they do love playing against the big teams. Shane Long will be terrorizing whatever shocking defence City put out and if Joe Hart starts this is a real possibility. Suppose that's why we call it the mega stupid life changer bet of the night.
If that is a little too heavy of a bet you could always do the same bet with a double chance.
Villa and a draw, Sunderland and a draw, West Brom and a draw £10 sees £130.
The safer bet of the evening for those of you without gigantic balls has to be the goalscorer treble bet.
Three times a charm with this cheeky treble. £10 bet will see £90 if Beast Mode, Giroud and Suarez bag at anytime.
Click here to claim your free £30 bet from Ladbrokes.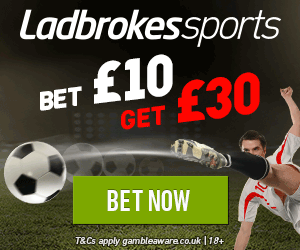 Everton play away at Man Utd, and in the past this would not mean banker for goals but I'm afraid that now it does. United don't have the defence that they used to and this has to go partly down to the ex-Everton and now Man Utd manager David Moyes. Man Utd struggle to keep up with the top boys of the league as they currently sit in 8th – Moyes knows a loss today will cost him big but that a win could take him within touching distance of the Champions League qualification spots. Lukaku's last trip to Old Trafford was in a baggies shirt and he snatched himself a hat trick when he came off the bench. He will score tonight.
Top of the league Arsenal play at home to Hull who managed to scramble a 3-1 win against Liverpool on Sunday. However, Huddlestein and the other Tigers won't be able to score deflections at the Emirates and it is gonna come down to Giroud and the boys to put them straight. Giroud needs a goal and with Ozil, Ramsey and Wilshere playing how they are you know it's more than possible. Arsenal 2-0 Giroud first goal if I was a betting man.
The third and final man in our treble this evening is the infamous biter himself Luis Suarez. The Uruguayan scores for fun and whenever he plays Norwich he scores a hat-trick, normally away at Carrow Road, but this time it'll be at home.
This is our fourth jump into the world of tipping and if you'd have followed each of our posts you'd be a minimum of £200 up so do the right thing people. Click here to claim your free £30 bet from Ladbrokes.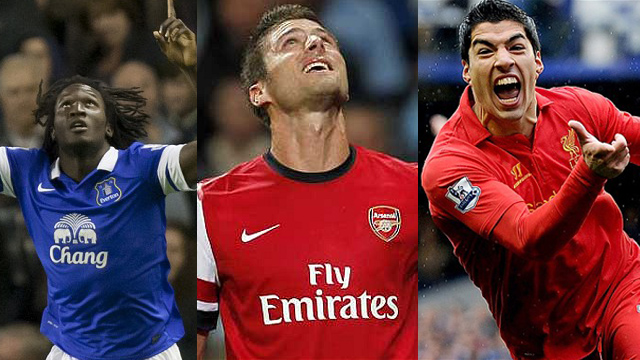 The evening Premiership kick offs are as follows:
Let's hope there are as many goals tonight as there were on Fergie's final day. Lukaku to turn on beast mode again 2/1.
[yframe url='www.youtube.com/watch?v=1rKOdVAKTv8′]