We're back and bigger with our Tuesday night tickler of a football accumulator. Make sure you click one of the banners below or this link to claim your free £30 bet on tonight's games.
Two bets coming at you today to commemorate the roundup of Groups A, B, C & D.
Although we weren't able to match our midweek luck on Saturday we still gave you a bit of intel which hopefully stirred you in the direction of money as we all but guaranteed the 2-0 Arsenal win but we are back to our best with this one.
Our first bet to tickle your fancy is:
Three times a charm with this cheeky treble. £10 bet will see £200 if Cavani, Bale and Drogba score a goal at anytime.
Click here to claim your free £30 bet from Ladbrokes.

PSG are taking their show on the road to Portugal tonight and more in particular third placed Benfica. Joint on 7 points with Olympiakos but trailing on goal difference by one goal will mean Benfica will need to push in this game — especially since the Greeks are facing bottom club Anderlecht in the other Group C game. With Zlatan, Veretti, Thiago Silva and Alex all missing and their progression all ready secured it will be a night of no pressure for the French champions – cue the man – Cavani. PSG will score tonight and they will catch Benfica on breaks as they go all out for the win, Cavani will be the channel all the play goes through and is sure to bag at some point in 90.
Real Madrid have again secured top spot but are playing away at FC Copenhagen who still have a chance of qualifying if Galatasary hold Juve to a draw in Turkey and the Danish snatch a win. Problem is that Ronaldo is back. Bale will not be happy to play second fiddle though and has taken it upon himself of late to fill the gap in Ronaldo's absence and will be unlikely to want to relinquish his place up the top. Ronaldo and Bale will take turns picking the top corner out in this game and for an anytime goal this one is sured up.
The last man in our cheeky treble is where you get the real value. The Drog has been a key player wherever he's gone in his career and tonight will be his night. The Old Lady (Juve) coming all the way from Turin to Hell and they are going to get a reception when they get there. Didier Drogba makes a point of shining when the spotlight of the world is on him — and in a game where Galatasary have to win in order to progress you can be sure that he will bring his A game.
This bet is a little out there so you might be better off tickling our treble with a £5 and still reaping the rewards courtesy of our friends at Ladbrokes. Click here to claim your free £30 bet from Ladbrokes.
Our second bet of the night is the easy like a Tuesday evening double…
Bayern Munich to beat Man City and both teams to score and Real Madrid to beat FC Copenhagen both teams to score £10 sees £87 with Ladbrokes.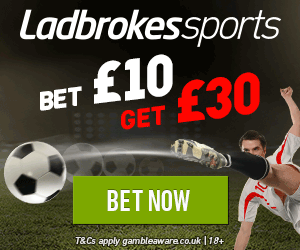 Bayern Munich have recently beaten the record for most consecutive victories as Pep Guardiola's men recorded 10 in a row in the Champions League — a record they will look to add tonight. Both teams have qualified but top of the pops for Group D is still up for grabs and will mean the winner will play a less formidable team in the next stage. With the English teams away form though a win will probably be out of the question but with Aguero and the boys firing no all cylinders you can expect goals. Also, Pantillimon got lobbed and he's 7 feet tall so that has to go in our favour surely?
Real Madrid away at FC Copenhagen really is a banker. Ronaldo has all but had his name engraved on the Ballon D'or this year and he will want to further mark his territory as the best in the world. Add to that Bale steaming in with a goal or two this really will be something to take note of tonight. However, it doesn't go unmentioned that the Danish will still be hoping to get into the next stages and know they have to win — this means they just HAVE to score. They'll be gunning from the start and just watch out for these boys popping up with a late goal to secure your winnings.
This is our fourth jump into the world of tipping and if you'd have followed each of our posts you'd be a minimum of £200 up so do the right thing people. Click here to claim your free £30 bet from Ladbrokes.
The other games out there in the Champions League Universe are as follows:
Real Sociedad v Bayer 04 Leverkusen 19:45
FC Copenhagen v Real Madrid 19:45
Galatasaray v Juventus 19:45
Benfica v Paris Saint Germain 19:45
Olympiakos v RSC Anderlecht 19:45
Viktoria Plzen v CSKA Moscow 19:45
So eat up those free Ladbrokes bets (they're good for you) and get on board with us as we look to break through the £300 profit mark tonight.