Jurors in Miami were shocked as a lawyer's trousers burst into flames just as he was making his final arguments for the defense in an arson case. Mr. Stephen Gutierrez was representing Claudy Charles, 48 who was accused of setting his own car on fire.
Featured Image VIA
Whilst stating that his client's car had spontaneously combusted, lawyer Stephen Gutierrez's trousers themselves started billowing smoke.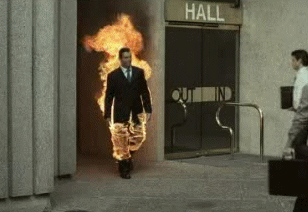 Mr. Gutierrez was then rushed out of the Miami courtroom, returning minutes later with a shook jury and a slightly scorched trouser pocket. Claiming the smoldering surprise wasn't an elaborate defense, Gutierrez blamed a defective e-cigarette for the disruption, but witnesses told local newspaper Miami Herald that he had been fiddling with his pocket before making the statement. If it's found to be ruse, the 28-year-old lawyer, who graduated from Florida International University in 2015 could be held in contempt of court.
Whilst clearly a genius move if intentional, the stunt ultimately backfired and the defendant was convicted of second-degree arson. Gutted.
For more cases of extreme irony, click HERE.