Jonny Benjamin is searching for the man who convinced him not to jump off Waterloo Bridge and into the Thames in 2008, effectively saving his life.
Jonny suffers from schizoaffective disorder and was set to end it all exactly 6 years ago today, on January 14th 2008 — but the mystery man talked him out of it.
☛ Read Next: A Depressive's Guide To Coping With Depression
'He was very calm and said "Please don't do this, I've been where you are and you can get better. Let's have a coffee and we can talk about this,"' Jonny said. 'He reminded me of what people do every day so the normality of it was really inviting.'
It worked — Jonny climbed back over the railings and is now a mental health campaigner.
'His act of kindness changed my outlook on life and I have thought about him ever since. I want to find this man so I can thank him for what he did. If it wasn't for him, I probably wouldn't be here today.'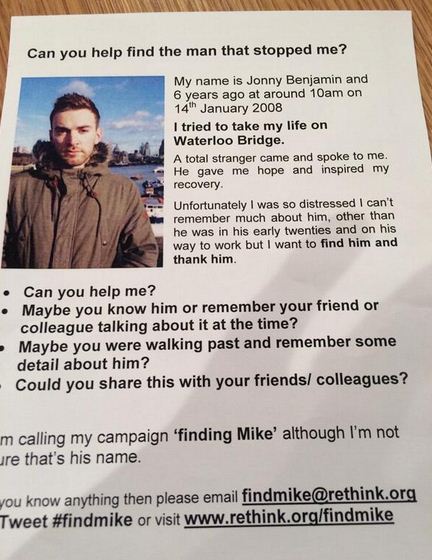 Johnny doesn't recall getting the man's name, but has dubbed him 'Mike'. If you think you have an idea who it might be, get in touch with findmike@rethink.org.
'http://www.youtube.com/watch?v=hEhDHDdYDVI']